One or two shoutouts wouldn't suffice, so by the time Amir Johnson finished reciting his NBA mentors, he'd named much of the Detroit Pistons' 2004 championship core – plus a bench's worth of sages who arrived a bit later. Ben Wallace. Rasheed Wallace. Chauncey Billups. Rip Hamilton. Tayshaun Prince. Lindsey Hunter. Dale Davis patrolled the Detroit frontcourt in 2005-06 when Johnson was a rookie; ditto Chris Webber the next season. Even Allen Iverson showed him the ropes in the Motor City for a spell.
"Kelvin Cato," Johnson said. "Tony Delk. Jarvis Hayes. I could go down the line of how many vets, good guys, I had helping me out."
Johnson, now a 14-year NBA veteran himself, was speaking on the phone this week from hotel quarantine at Walt Disney World, where the G League – just like its parent league last summer – is bubbling up to be able to hold a 2021 season. Seventeen of 28 NBA affiliate teams chose to participate in the month-long schedule. The competition's 18th entrant, the California-based G League Ignite, recently emerged from three days of seclusion (a pandemic safeguard) to begin the squad's experiment in how to nurture future NBA talent.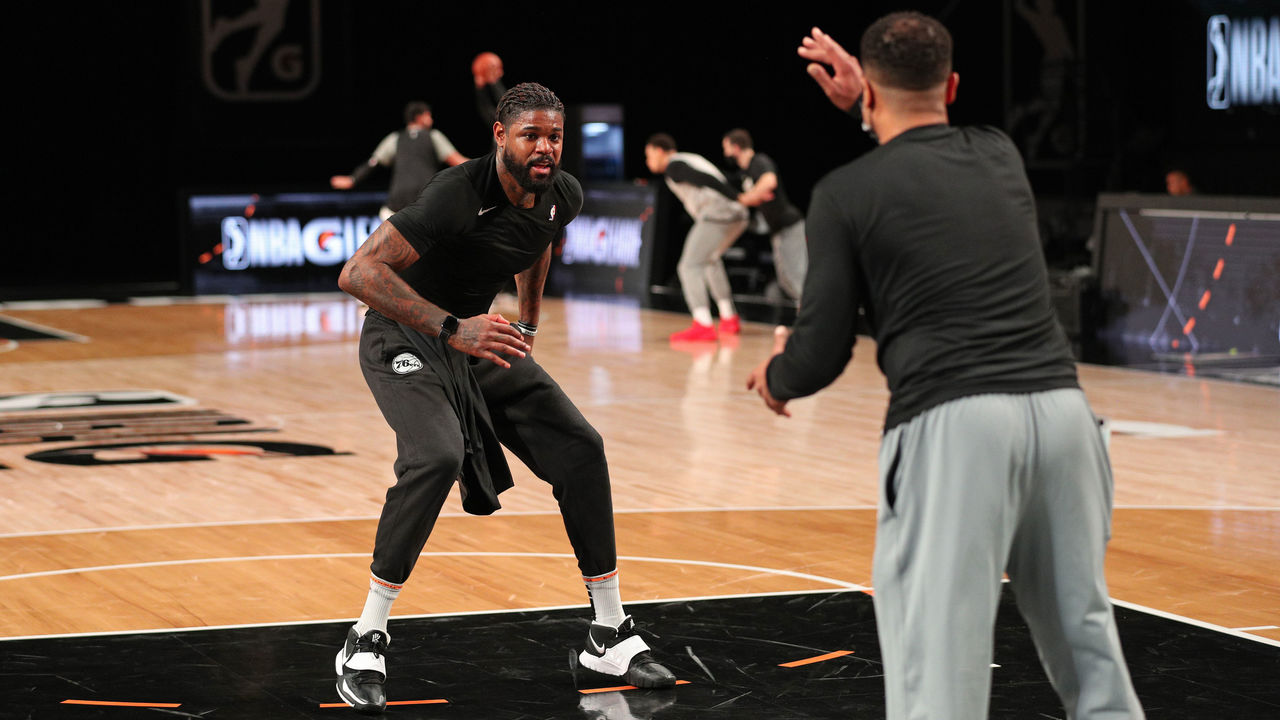 Johnson, 33, and Jarrett Jack, the 37-year-old longtime NBA point guard, are the most prominent old heads on this new developmental team, whose first roster features five potential 2021 draft picks. Rather than park in the NCAA for a year, these prospects signed on for an experience college can't provide: the chance to draw six-figure salaries and share the court with hardened pros as they try to maximize their NBA stock.
Two Ignite young guns, Jonathan Kuminga and Jalen Green, project as top-five selections next summer. Daishen Nix, Isaiah Todd, and Princepal Singh will audition for scouts alongside them in Lake Buena Vista, Florida. Their path to the draft doesn't exactly mirror Johnson's, the most recent NBA player to debut straight out of high school. But there's an echo, similarities between their pro apprenticeship and how Johnson learned on the job – in the fire, he says – as a teenager in Detroit.
It's why his ears perked up when head coach Brian Shaw phoned to sell him on the Ignite concept.
"That was me in 2005," Johnson said. "I loved the idea that I'd get to come out here and work out, and at the same time kind of coach these guys."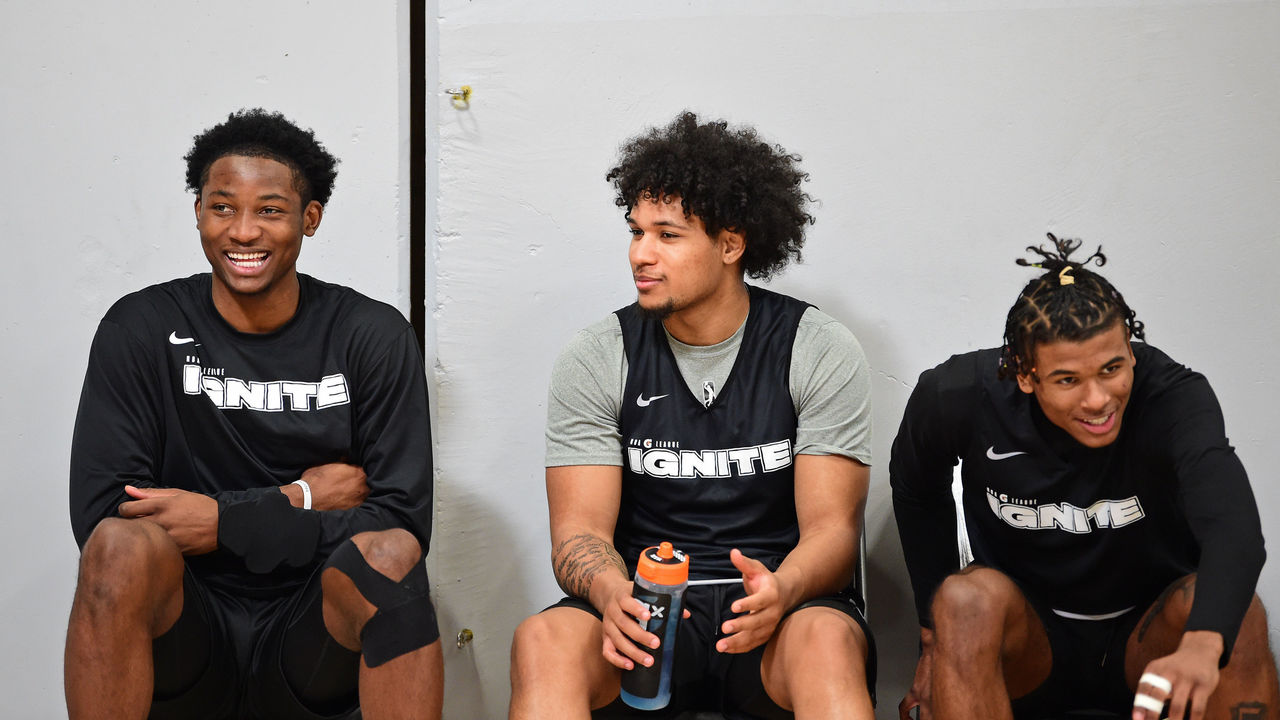 Next Wednesday through March 6, when the Ignite play 15 games in 25 days, Johnson and Jack will serve as testaments to the merits of veteran leadership. Over long, productive NBA careers – Jack's lasted from 2005-18 – they became known as good teammates and, in certain cities, fan favorites. Their paths crossed with the Toronto Raptors in 2009, and from there they held down rotation roles next to a procession of All-Stars in the making, from DeMar DeRozan to Steph Curry to Jaylen Brown to Ben Simmons.
"I look at Amir as our spiritual leader on the court," former Raptors coach Dwane Casey once told Sportsnet, lauding Johnson for the energy and tenacity with which he played 870 career games. Drafted 56th overall in 2005, Johnson came to start on decent Toronto and Boston Celtics playoff teams, a plus-minus darling who could be counted on to defend, hustle, and score efficiently on few shots. (And to look out for Jonas Valanciunas.)
Jack, an eight-team journeyman who was said to know everyone in the NBA, stuck in the league as a savvy floor general capable of slinging seven assists per game at his peak. As Curry's backup on the 2013 Golden State Warriors, he finished third in Sixth Man of the Year voting to JR Smith and Jamal Crawford. That Jack appeared in a mere three NBA postseasons belies the wisdom he's accrued. As Nix, the Ignite's 6-foot-5 point guard prospect, told theScore this week, "Everything he says, I take it in."
In short order – the Ignite only signed Jack three weeks ago, though Johnson's been with the team since November – conversations between mentors and mentees have covered a range of life lessons.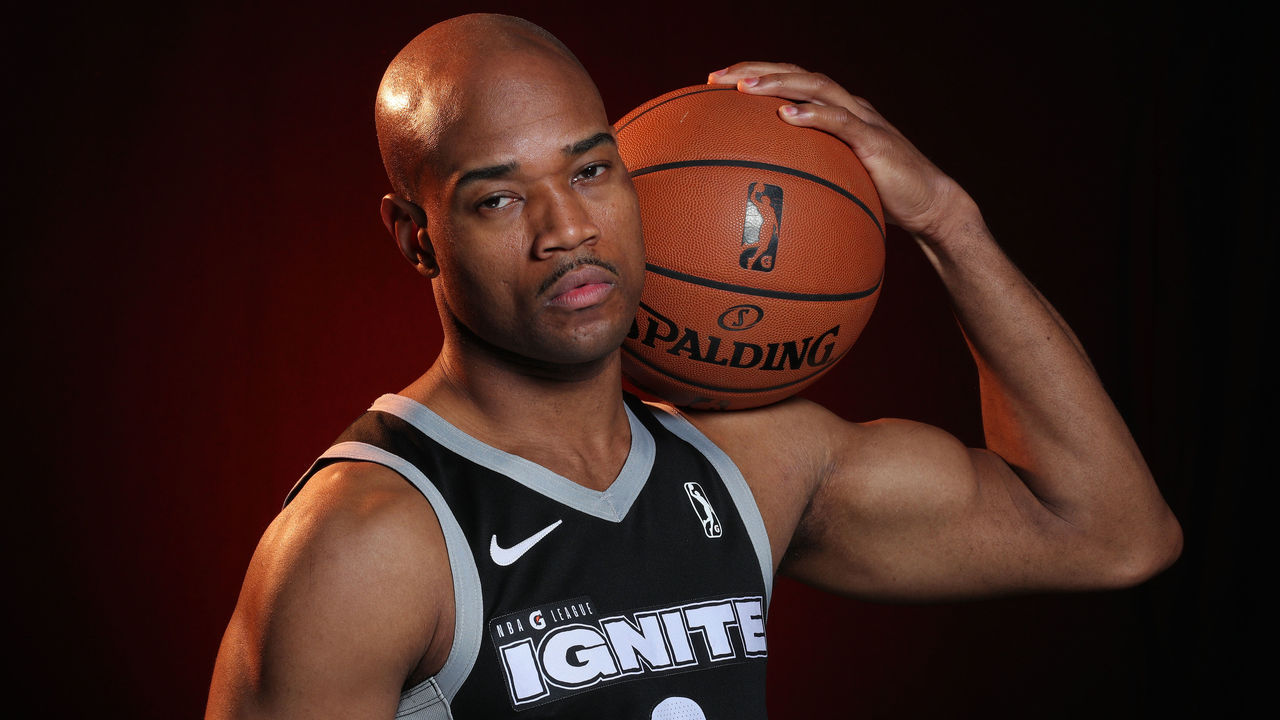 Way back when, Johnson's introduction to adulthood included cleaning his apartment and learning to drive in Detroit snow, a conundrum for a Los Angeles kid. Pistons teammates in their 30s guided him on other matters. (Antonio McDyess gave him a bunch of suits.) To pay it forward, he and Jack have counseled the Ignite prospects on financial restraint, on knowing when to say no to people, on how to set and maintain a daily routine.
On the court, they preach and practice the fundamentals that young players sometimes let slip, like calling out screens on defense. When a point guard is directing offensive traffic, Jack said, his mouth is his greatest asset, and so he's urged the mild-mannered Nix to be more vocal. Another Jack tenet applies across positions: Get to the gym early and stay late.
"I like to do things that can speak volumes," Jack said. "Things like that show that you're serious. You have a certain passion for the game, a work ethic. And you want to be different. You want to stand out."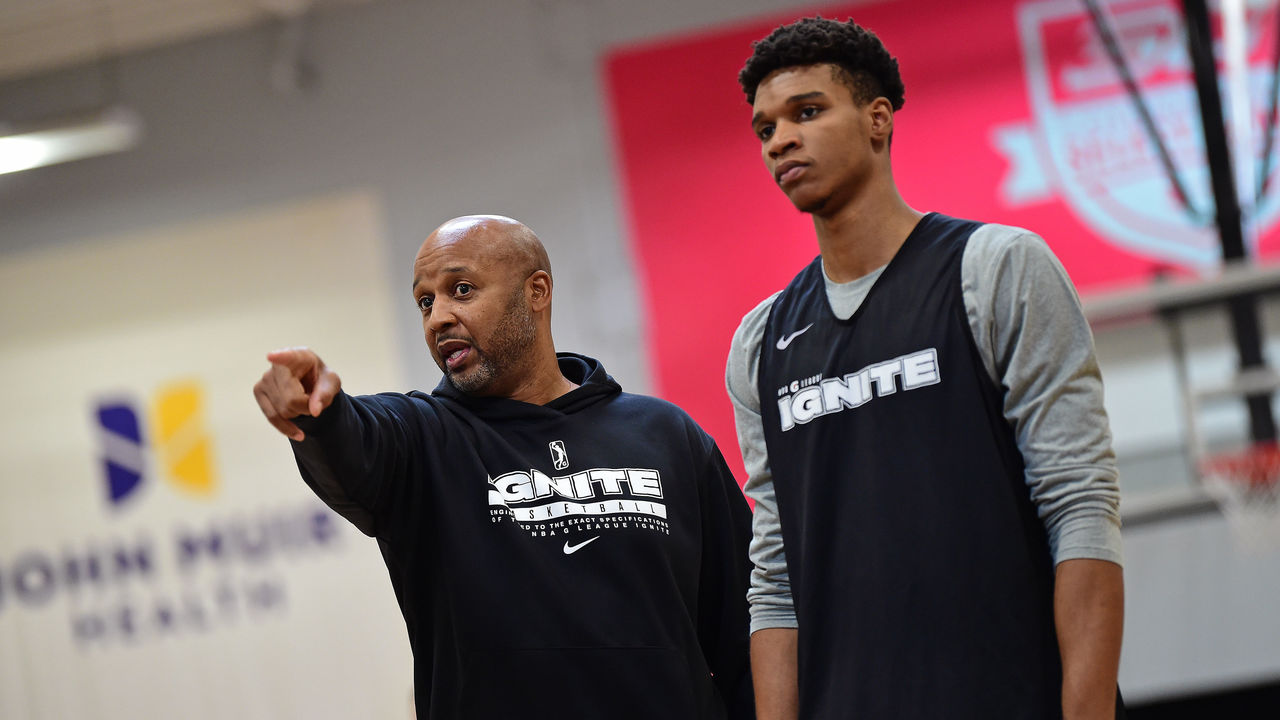 Like Johnson, Shaw's own NBA career started with a recent champion. Drafted to Boston in 1988, Shaw spent a few formative years around Larry Bird, internalizing habits that foster longevity. With age, his responsibilities shifted. In his 30s, he backed up Kobe Bryant as the Los Angeles Lakers three-peated. In his 40s, he segued from the assistant ranks to coach the Denver Nuggets. Now 54, Shaw said he values how Johnson and Jack amplify his staff's instructions, relating need-to-hear points as only someone in uniform can.
"I know at some point, players, they can turn off the voices of their coaches," Shaw said. About the Ignite prospects, he added, "They're hearing the same message reinforced by their (teammates) who have some experience, and who've been where they're trying to go. That's priceless."
The last night Johnson saw an NBA court, his Philadelphia 76ers beat Toronto in Game 6 of the second round of the playoffs, pushing the Raptors to the playoff brink in 2019. He dressed but didn't play in Game 7, which Kawhi Leonard won at the buzzer with his iconic, rim-rattling corner fallaway.
Johnson went unsigned in free agency that offseason, but kept in shape and personally called some NBA general managers, including the Lakers' Rob Pelinka, to see if they'd tender an invite to training camp. With the likes of Dwight Howard in the fold, L.A.'s bigs rotation was set, exemplifying how Johnson was squeezed out of the league. Last summer, he was set to join the shorthanded Nets in the bubble – Johnson took five coronavirus tests to be ready to report – but Brooklyn signed Donta Hall instead.
Hall, an undrafted second-year pro, is now teammates with Johnson on the Ignite, squaring the generational gap between the veterans and budding draftees. The Ignite's remaining vets – Bobby Brown, Reggie Hearn, Cody Demps, and Brandon Ashley – have ample G League or overseas experience, and Brown has appeared in parts of four NBA seasons.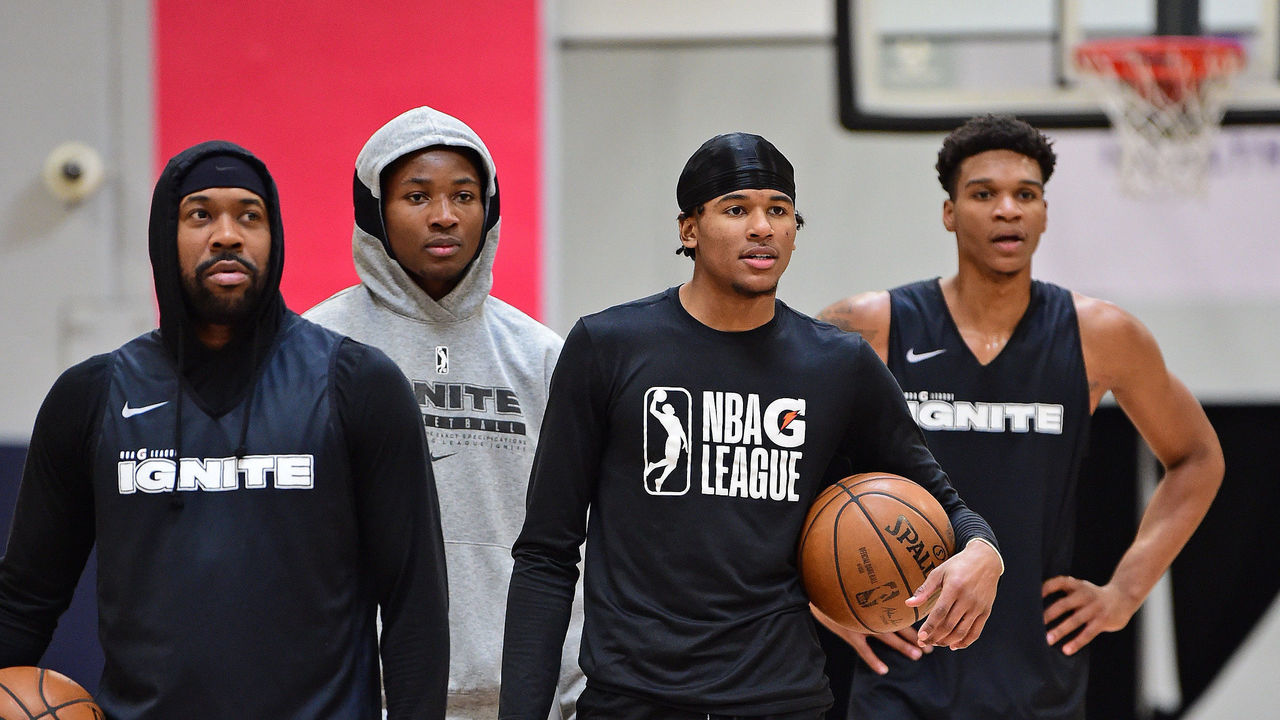 Their Ignite run starts Wednesday at 11 a.m. ET, with the tipoff game in the bubble against Jeremy Lin and the Santa Cruz Warriors. The roster balance means Shaw has lineup options at his disposal, be they vet-heavy looks, five-prospect units, or combinations. (The Ignite's sixth prospect, 7-foot-3 center Kai Sotto, trained with the team in the lead-up to the season but left this week to play internationally for his native Philippines.)
Shaw is high on this prospect group. He admires their athleticism, their talent – "I wish I was as good as they are when I was 18" – their readiness to meet challenges, and the way each of them leads by example. Green, the Ignite's first high-school recruit, is willing to run all day. Kuminga defends physically across 94 feet. Todd is a natural energizer, the purveyor of bounce on days that enthusiasm lags. Teammates, Shaw said, know Nix will get them the ball if they get down the floor.
Also: "They ask so many questions," Johnson said. Jack appreciates this, having known draft picks who weren't so inquisitive.
"I've seen people like that come in with not a humble bone in their body. Not wanting to listen or learn," Jack said. "They've been the complete opposite."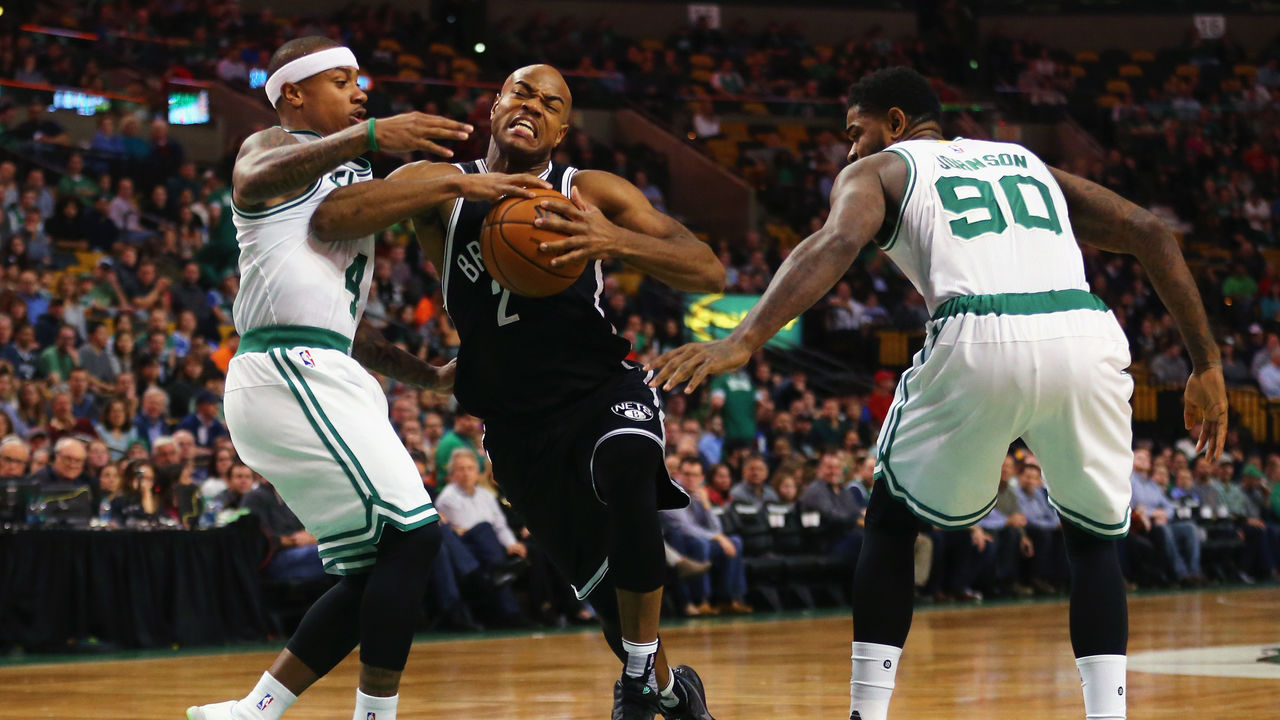 This deep into his basketball life, Jack makes a robust philosophical case for why locker rooms need older leaders. Vets help resolve internal issues before they fester, dousing fires before coaches, let alone the public, know they exist. But Jack is also in Florida to compete, to try to revitalize his career coming off the series of ACL and meniscus tears that sidelined him for significant chunks of the past five years.
Jack said he worked to rehab those injuries because he remains "enamored with the game," and his 25-game stint with last season's Sioux Falls Skyforce, the Miami Heat's G League affiliate, assured him his legs are sufficiently explosive. Miami's Udonis Haslem, 40, is the only active NBA player who's older than Jack, and he's yet to see action this season. Still, if the league happened to call again, Jack said he'd jump at any opportunity to push the pace, stretch the floor, and help scorers get free in open space.
Johnson turns 34 in May, and if he doesn't ink another NBA deal, 35 is when he thinks he'll retire. Otherwise, the goal is to play for as long as he's issued a jersey, like he once did in the presence of a dozen close personal mentors. Like he and Jack did together a dozen years ago in Toronto.
"Good guy. Good heart. Good spirit. Plays the game the right way," Jack said, describing Johnson over the phone from his own room in the bubble. "Hopefully it'll be like old times when we get back out there."
Nick Faris is a features writer at theScore.