A whole lot can change in the NBA over the course of a calendar year.
Do you remember when, less than 11 months ago, the Brooklyn Nets barbecued the Boston Celtics to the tune of 128 points per 100 possessions in a five-game series win? Or when Brooklyn entered the 2021-22 season as the overwhelming championship favorite? Those recent moments felt like ancient history on Monday as the Celtics completed a first-round sweep of a Nets team that looked decidedly unremarkable all series and all season, despite rostering two (and for a while, three) of the greatest offensive players in league history.
Many things needed to happen in the interim for the Nets to wind up here, with their status as 2022 favorites completely disconnected from what they became. If Kyrie Irving's vaccine holdout didn't nuke the team's title pursuit before it began, then Joe Harris' season-ending injury, James Harden's physical decline and disillusionment, and the trade that sent an aggrieved Harden to Philadelphia for an even flakier player who never even took the court certainly finished the job.
As the Nets trudged through the remainder of the regular season and a play-in game, then into the postseason proper, they tried to super-glue together the peeling-apart pieces of an imbalanced roster that had been hastily assembled at the trade deadline. In the first round, they ran into a bigger, faster, younger, more athletic Celtics team that spent the entire season building chemistry and calibrating a lethal defensive formula with scientific precision.
Was this doomed season just a bump in the road for this iteration of the Nets – one that will be smoothed over with better health, greater continuity, and a fully available Ben Simmons? Or was this a harbinger of things to come for an ill-fated superteam whose championship window has already closed?
Let's consider the facts.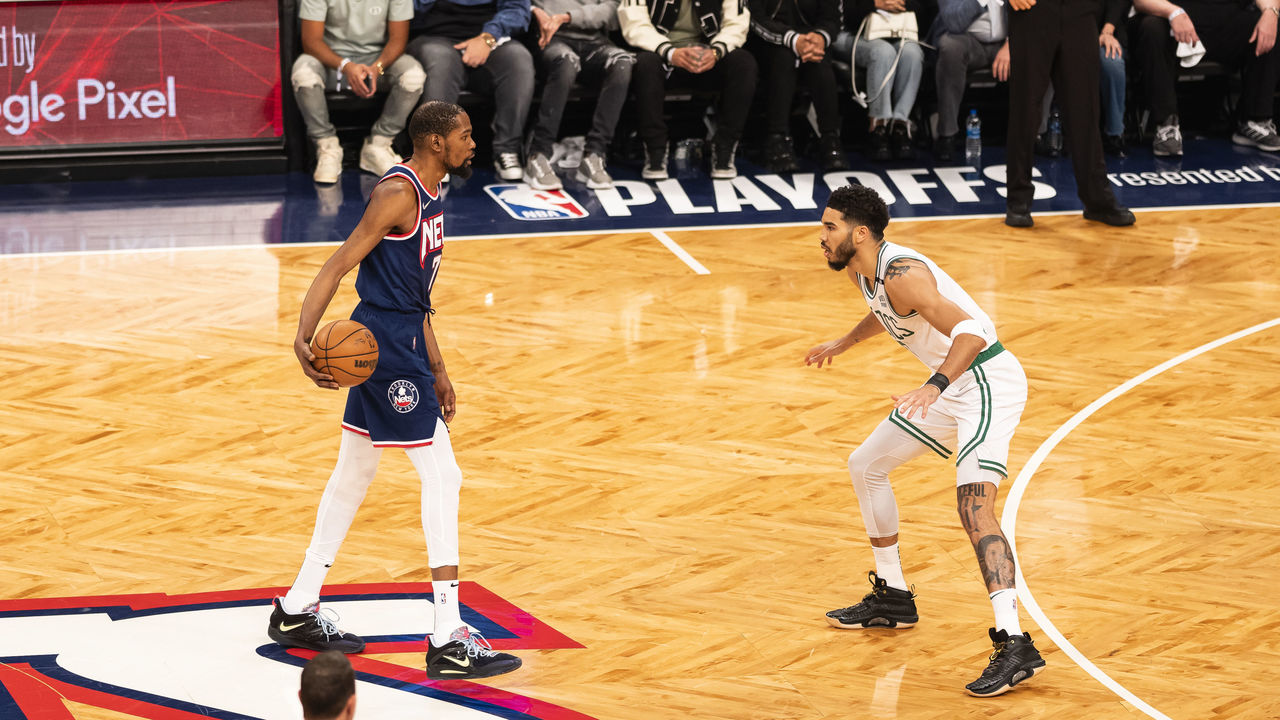 Kevin Durant will be 34 by the time next season starts, and he's missed 64 games across two seasons since returning from a torn Achilles tendon. The Nets need superhuman production from Durant in order to truly contend, but while he remains an offensive powerhouse (dude averaged 30 points on 63% true shooting this season), the Celtics made him look shockingly mortal. Their array of long, strong wing defenders and the physical, help-heavy game plan took him out of rhythm and tanked his efficiency.
In some cases, he simply missed shots he often makes, but it's hard to ignore that he lacked the agility or burst to get around guys like Grant Williams or even Al Horford. By Game 4, he looked worn out. The combination of size and all-time-great jump-shooting should make Durant's game more resistant than most to age-related decline, but if the Nets are relying on him to remain in the echelon of superstars who can be the best players in any series, there are some red flags. Just 14% of his shots came at the rim this season (a career low by far), and that number dipped to 12% in the playoffs.
Durant's whole thing is that he's supposed to be scheme-proof; no matter what an opponent does, he can get to his spots and rise up for silky jumpers with a release point too high for any defender to challenge. The Celtics dismantled that notion, exposing Durant's athletic limitations and his shortcomings as a playmaker. The Nets' whole thing is that they're supposed to have the top-end talent edge in any matchup, which is how they expect to overcome patchwork depth and shoddy defense. But that wasn't the case in this series either. Jayson Tatum outplayed Durant pretty handily, and Jaylen Brown and Marcus Smart outplayed Irving.
And speaking of Irving – the man whose apparent self-martyrdom (for a terrible cause) set this would-be contender down its path to dysfunction and disappointment – he's about to become an unrestricted free agent. The Nets have gone too far down this road to turn back now, so they'll surely look to bring him back on a new max contract. But what can they reasonably expect from him in terms of both availability and on-court performance?
Irving has sat out more games than he's played since signing in Brooklyn three years ago. He's been very good when available, but while his otherworldly ball-handling, shooting, and isolation scoring chops clearly haven't diminished, he hasn't been able to effectively organize the disjointed Nets' offense as its lead initiator. Compare his inclination for self-creation to the work Smart did in this series as a conductor and distributor for Boston's offense. Playing next to Harden was perfect for Irving (in theory, at least; we didn't see it much in practice) because he was able to slide into his more natural offensive role as a shooting guard. Ben Simmons may fancy himself a point guard, but he's not going to bump Irving to an off-ball role in the half court.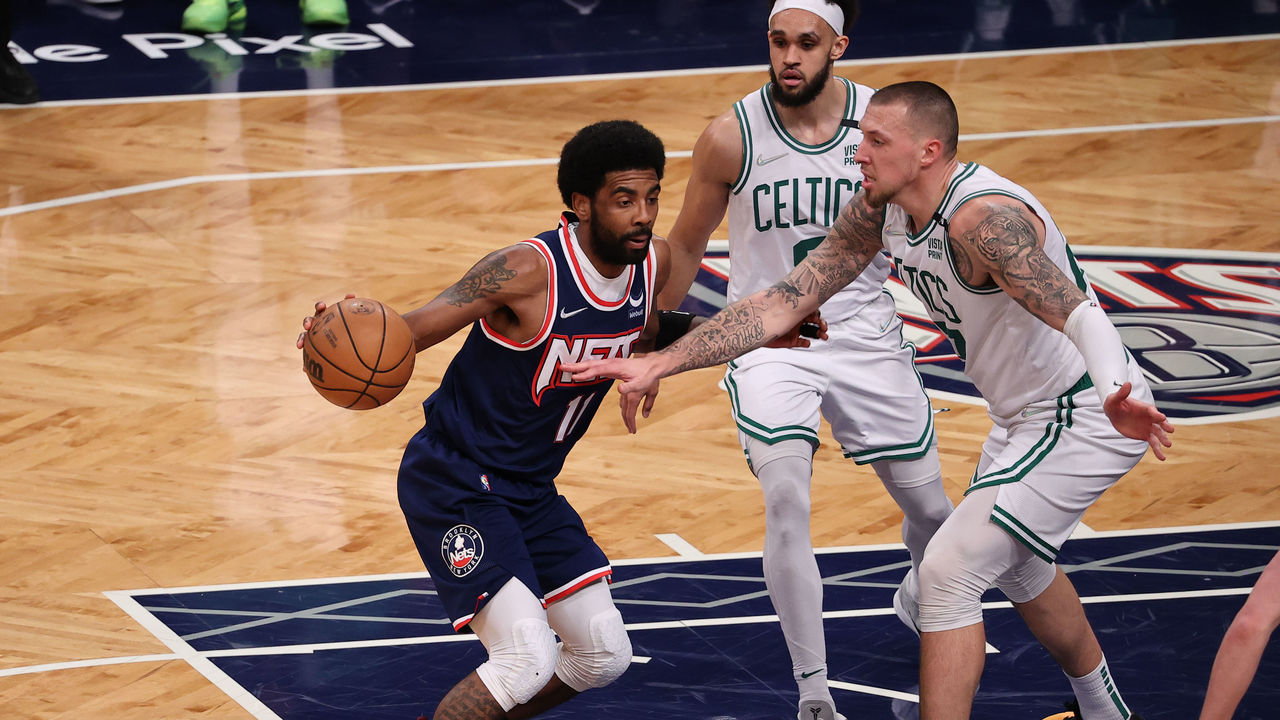 This all might seem a bit like burying the lede. After all, Brooklyn actually scored pretty well against the Celtics' league-best defense, putting 115 points per 100 possessions on a team that allowed just north of 106 during the regular season. But every minor offensive issue for the Nets is magnified because of their defensive limitations. They may have had more offensive talent on balance than Boston, but they had a lot more weak spots, and the Celtics were more deliberate about hitting those pressure points.
Brooklyn lacked the size on the wing to handle both Tatum and Brown, granting one of them a mismatch basically at all times. Bruce Brown did his damnedest, but he was still giving up at least 3 inches of height to both of those guys. At various points, the Nets even had center Nic Claxton serving as the primary on Tatum, but that tactic never really had legs. Tatum was pretty consistently able to beat Claxton off the dribble and then encountered almost nothing in the way of rim protection on the backline.
Even when Claxton wasn't starting possessions on the perimeter, he often finished them there because of Brooklyn's proclivity for switching pick-and-rolls. When he held up on the front end of those switches, the Nets were vulnerable on the back end, where they didn't have the luxury of a fire-hydrant guard like Smart to keep big men off the boards. The Celtics rebounded a ridiculous 35.8% of their own misses in the series.
"We look up and Seth Curry or (Goran) Dragic is boxing out a 7-footer," Durant explained after Game 4. "They're playing hard, but they're just smaller, and (mean)while the big's out on the perimeter on the switch, guarding a guard."
You might be wondering why they kept switching if they kept getting burned for it, but none of their guards aside from Brown was able to fight over screens effectively, so the Celtics just burned them with pull-up jumpers and two-on-one rim attacks. And when the Nets put two on the ball, the Celtics burned them for that, too.
The big issue for the Nets as currently constructed is that they're forced to juggle their offensive and defensive priorities constantly; outside of Durant, the players who are integral to keeping their defense competent are offensive liabilities.
The Celtics helped liberally off of Bruce Brown all series. They'd stick their most disruptive help defenders on him (mainly Horford and Smart) and let those guys rove and wreak havoc. When Brown was stationed in the weak-side corner, his defender would pull all the way over to plant himself in the lane and take away the short roll, which often made blitzing Durant and Irving a consequence-free option. When Brown was on the strong side, his defender would park at the elbow and dig down aggressively on any driver that deigned to go middle. Brown's defender would also be the designated scram-switcher, making sure to be in position to kick another Celtic out of any precarious matchup that might materialize in the middle of the floor.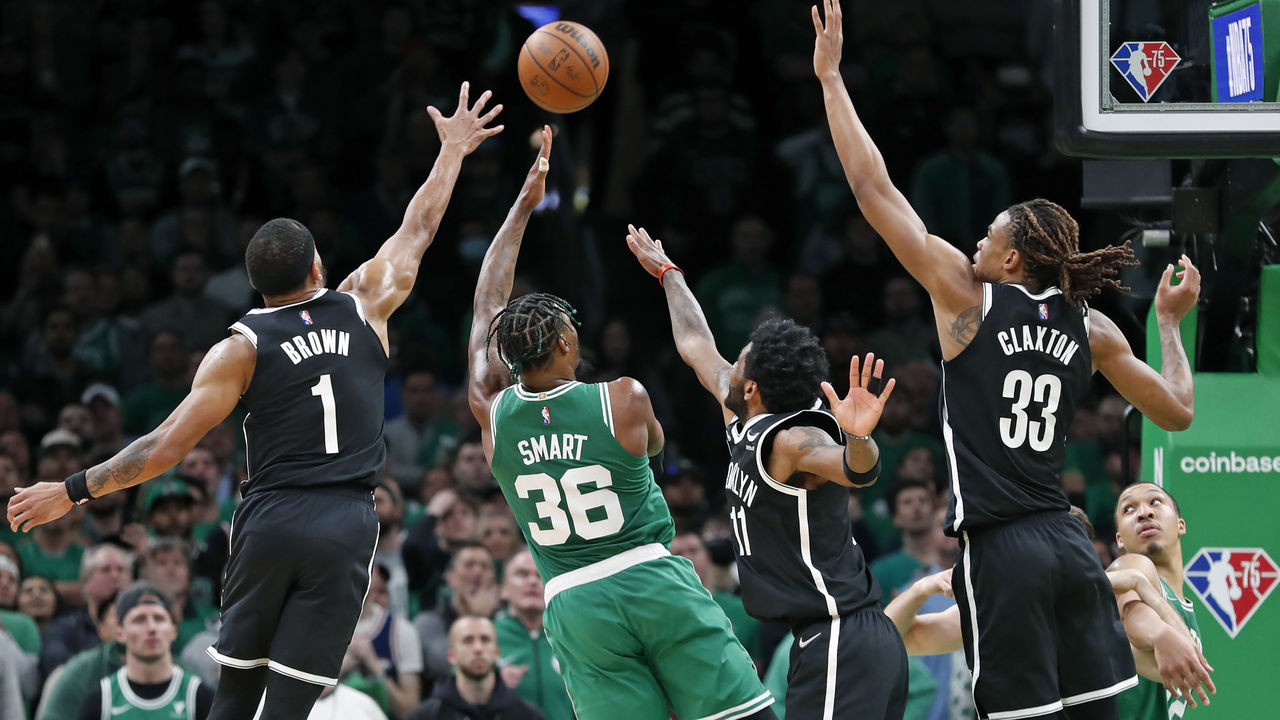 Brown, to his credit, had a very nice individual series, averaging 14 points on 68% true shooting. When his defender left him to help on Durant or Irving, he was able to flash into pockets of space and burrow for layups and floaters. He even knocked down six of his 14 3-point attempts, ostensibly making the Celtics pay for ignoring him. But Boston didn't actually care in the slightest. Letting Brown shake loose was a small price to pay for holding Durant in check, and the numbers bore that out: Brooklyn scored 15.3 fewer points per 100 possessions with Brown on the floor in the series.
In 125 minutes with Durant and Brown both on the floor, the Nets posted just a 105.2 offensive rating, compared to 126.2 in 51 minutes with Durant on and Brown off. Points were even harder to come by (104.4) with Claxton also in the mix. The Nets' defense was much better in those minutes, but the tradeoff didn't work. They arguably would've been better off going all-in on offense. (In 21 minutes with Durant on the court and both Brown and Claxton on the bench, Brooklyn scored a preposterous 139 points per 100.)
Claxton is the team's best rim-protector and has shown flashes of being a solid switch big, but at the offensive end, he couldn't make the Celtics pay for switching or for putting two on the ball (though it didn't help that he was usually flanked by another non-shooter, which allowed Boston to muck up his rolling and cutting lanes). His poor free-throw shooting also became a huge issue down the stretch of multiple games.
Playing two non-shooters at once killed the Nets time and again. Certain teams manage to survive and even thrive within those parameters – the Warriors and Heat foremost among them. But those teams run ornate, movement-heavy, free-flowing offenses that subsist on post splits, dribble-handoffs, random cuts, and off-ball screens and slips; they can tie opposing defenses in knots even without the benefit of four- or five-out spacing. The Nets' station-to-station attack, predicated so heavily on isolations and high pick-and-roll, is more predictable, and it's easier to gum up when there's more than one player to help off of.
Simmons doesn't resolve that paradox. If anything, he embodies it to the extreme – and that's to say nothing of the murky physical and psychological hurdles that kept the three-time All-Star and defensive stalwart on the sidelines for an entire year. Assuming he gets back to his top gear, Simmons should at least help the Nets close the athleticism and physicality gap that became so apparent in this series. In theory, he could also give them the option to play center-less more often, though he's always been much better as a perimeter defender than an interior defender and has never engendered much success as a small-ball five.
Still, Simmons will undeniably improve the defense, and having both him and Harris in the fray will go a long way toward smoothing out the size issue on the wing. Claxton and Brown are about to hit free agency (RFA for Claxton, UFA for Brown), and it will be interesting to see what kind of effort the Nets make to retain them, knowing that Simmons will (probably) be aboard next season. Claxton, at least, seems likely to be back, given his restricted status and the fact that rim protection still figures to be a weakness.
Ideally, a full offseason together, followed by a season in which the team's best players aren't constantly shuffling in and out of the lineup, will help the Nets develop some real synergy and help coach Steve Nash figure out a playing style that works best for the current group. Brooklyn is still going to be absolutely loaded with shooting between Durant, Irving, Curry, and Harris. Even against a clearly superior team, the shot-making of Irving and Durant alone can keep the Nets close: They were a hair's breadth away from stealing Game 1 in Boston and were outscored by 18 total points across the four-game sweep.
The Nets' future still looks hazy. They could be a juggernaut lying in wait, waylaid for one season by a series of unfortunate circumstances. Or they could be the vessel of unfulfilled promise we saw this season: a tantalizing mediocrity, a cautionary tale about the perils of being beholden to flighty superstars, and a reminder of how quickly things can change in the NBA.
Joe Wolfond is a basketball writer for theScore.