The arrival of the NBA postseason has everyone trying to separate the league's select few contenders from the remaining pack of pretenders, but an often overlooked subset of teams are the potential party-crashers; giant-slayers capable of throwing a championship-caliber team's best-laid plans drastically off course.
As the regular season unfolded, the Toronto Raptors were already looking like the team that best fit that bill. A late-season surge that propelled them to the Eastern Conference's fifth seed may remove some of the "giant-slayer" shine; after all, it's hard to play David when you finish within three games of the supposed Goliath. But drawing the Philadelphia 76ers in the first round only adds to the Raps' party-crashing potential this postseason.
Toronto took three of four from the Sixers during the regular season as part of an impressive feat that saw the team compile a winning record (13-10) against the nine clubs that posted winning percentages of .600 or better and a 10-5 mark against the East's top four of Miami, Boston, Milwaukee, and Philly.
The Raptors didn't always play those teams at full strength. In sweeping the three-game season series against the Bucks, for example, the Raps only encountered Giannis Antetokounmpo once. But at least two of Milwaukee's Big Three played in all three contests, and Toronto didn't exactly benefit from pristine health, either.
Its preferred starting lineup of Fred VanVleet, Gary Trent Jr., OG Anunoby, Scottie Barnes, and Pascal Siakam only played 21 games together, with the Raptors going 15-6 in those contests.
The rest of the East's top contenders clearly have their own reasons to fear Toronto, but none match up as poorly with the Raptors as Philly does.
Raps' D can torture Sixers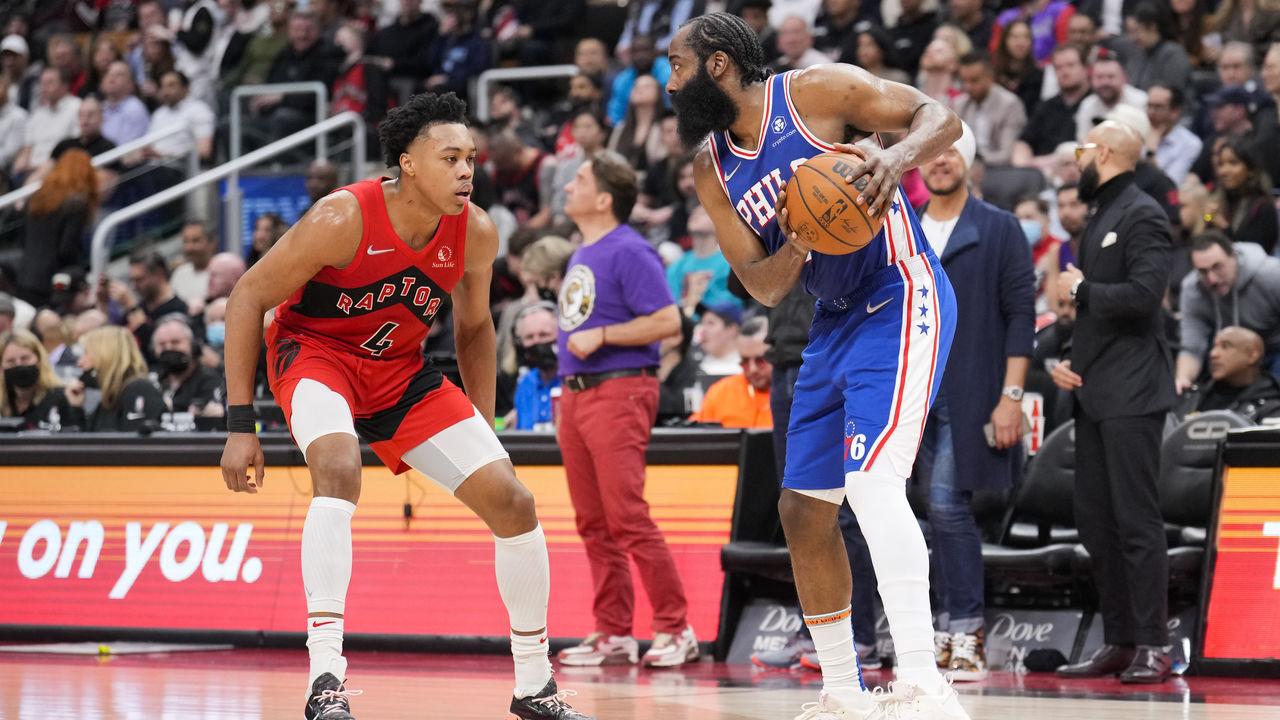 From a sheer size perspective, Joel Embiid has the most glaring advantage in this series, but the Raptors' length, versatility, and head coach Nick Nurse's creativity mean that advantages opponents should have against them don't always play out as expected.
A cursory look at Embiid's numbers in three games against the Raptors this season (29 points, 11.3 rebounds, 2.7 assists, a steal, and a block) would have you believe the MVP candidate dominated Toronto in ways you'd expect against a team without a traditional center or 7-footer. But most of Embiid's success came in a December victory over a Raptors team missing VanVleet, Anunoby, Barnes, and Precious Achiuwa.
In two losses over the final three weeks of the season against a healthier version of the Raptors – but one still missing VanVleet and Anunoby – Embiid shot 38% from the field and recorded more turnovers than assists.
The Raptors can throw a plethora of lengthy, switchable, defensive matchup nightmares at opponents, and they keep coming in waves. What the team lacks in traditional size at the five-spot, it makes up for with mind-bending length across the board.
VanVleet is the one truly undersized player in Toronto's rotation, and he just so happens to be among the best defenders at the point of attack, chasing shooters around screens, and a surprising helper. His perfectly timed doubles and digs pry turnovers from unsuspecting big men in the post, which only makes it more concerning for the Sixers that Embiid struggled the way he did in those final two matchups without VanVleet around to further pester him.
Even gunner Gary Trent has tapped into his defensive potential with the Raptors.
Trent's gambles and aggressiveness on the perimeter can hurt the Raptors at times, but he's also earned Nurse's trust with his defensive activity and impact. Trent ranked top three in steals this season, top five in deflections, top 25 in defensive plays made per foul committed, and he recovered more loose balls on the defensive end than any player in the league. VanVleet, who was one of only four players to record more deflections than Trent, finished second behind his teammate in loose balls recovered.
Having VanVleet and Trent in front of a lengthy frontcourt that features three of Siakam, Anunoby, Barnes, Achiuwa, Thaddeus Young, or Chris Boucher can put teams in a torture chamber.
Between James Harden and rapidly improving sophomore Tyrese Maxey, the Sixers are more competent at initiating offense than they were in the past when they struggled to even throw Embiid post-entry passes. But the Raptors have the length and manpower across their rotation to both put extreme pressure on the ball at the point of attack and to swarm Embiid in the post to negate the natural advantage he'd otherwise have in single coverage.
Embiid, at least, can still milk that size difference from time to time in this matchup. Harden will have more trouble creating any semblance of an advantage against this Raptors defense.
Whether due to health, age, indifference, or a combination of all three, the Beard has struggled to consistently create space for himself this season, with his first step and lift clearly lacking. Against the Raptors, those deficiencies are magnified.
Harden likes to hunt mismatches in the pick-and-roll to create advantages for himself and his teammates, but against Toronto's length and versatility, he may well be the hunted. Toronto has a revolving door of similarly built defenders just waiting to make life a living hell for opposing shot-creators and offensive initiators. In one matchup this season, Achiuwa was frustrating Embiid inside one minute, then hanging with Harden or Maxey on the perimeter the next.
The Sixers need something close to the MVP-caliber Harden of old to help Embiid get to the promised land. Unfortunately, their first-round opponent is the team that Harden's resurgence is least likely to come against.
Philly has a Siakam problem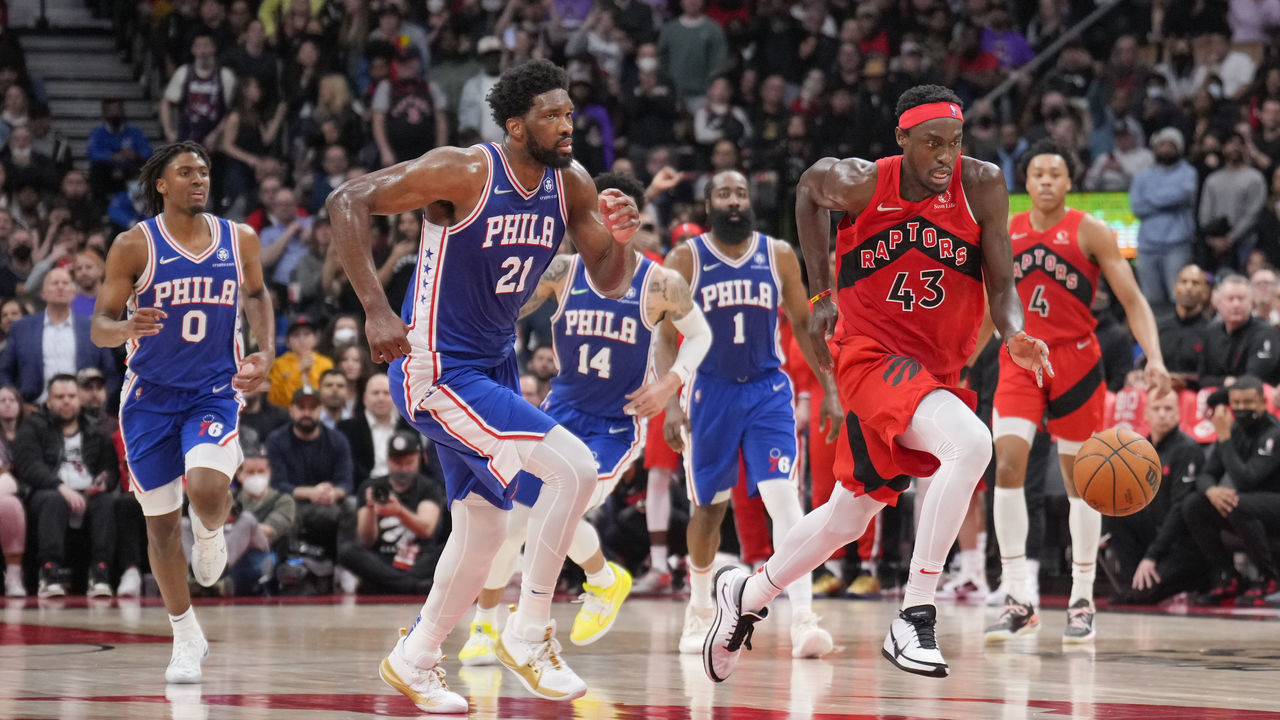 While the Raptors' defense is built to trouble the Sixers' stars, Philadelphia doesn't have many options to slow Toronto's best player.
Few teams had solutions for Siakam this season, as the former All-NBA forward put together the finest season of his career. But Philly, especially, had no answers for the Raptors' Swiss Army knife. In three games against the Sixers, Siakam averaged 30.3 points, 8.7 rebounds, and 8.3 assists (compared to just 2.7 turnovers) on 50.7% shooting.
It's not hard to see why.
The two best defensive options to stick on Siakam are Embiid and Matisse Thybulle, but it's unlikely either one will see enough time against him.
Having Embiid guard Siakam in the post is one thing, but Siakam is far from a traditional big man. He can create and dribble his way into his own post-ups. Does head coach Doc Rivers really want to match Embiid up with a point-forward type player on the perimeter? That might slow Siakam, but it would also compromise Philly's overall defense by pulling one of the game's best rim-protectors out of the paint while generally putting undue strain on Embiid.
Thybulle might be the Sixers' only dependable non-big defender at this point, but he's ineligible to play in Canada due to his vaccination status, which means Siakam can have even more of a field day in Games 3, 4, and potentially 6.
Toronto's math advantage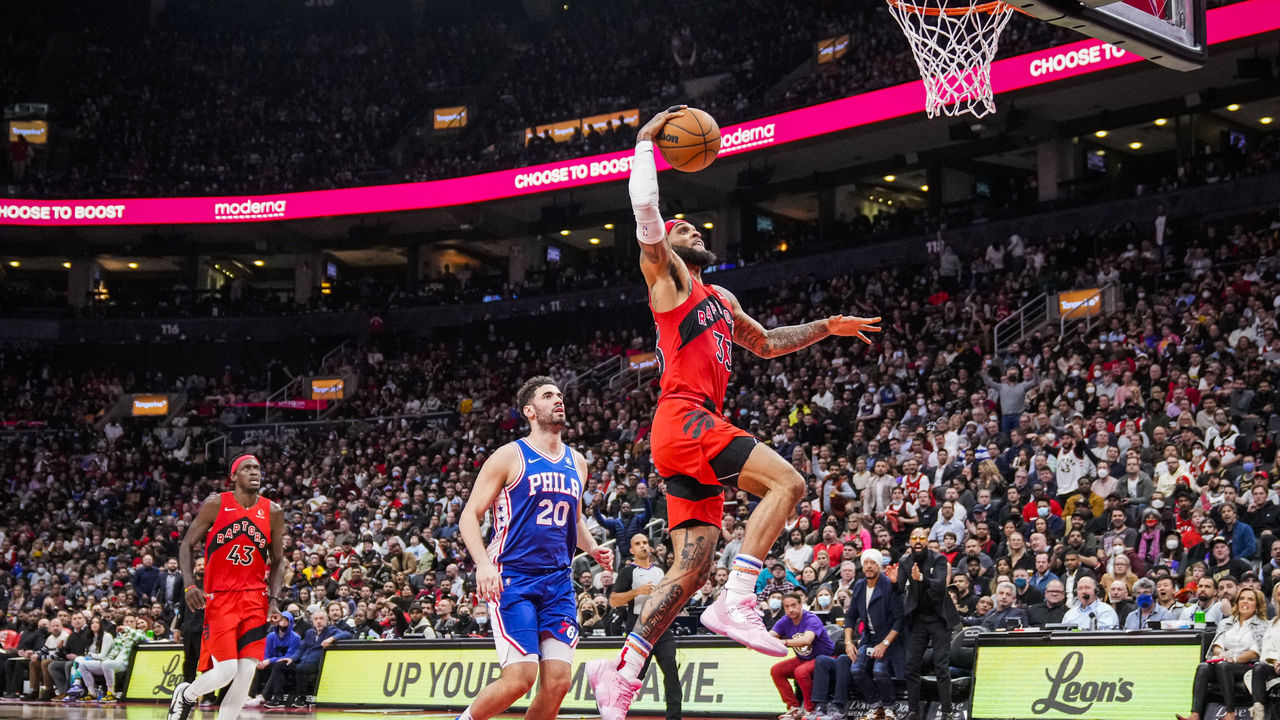 Though the lack of a true center can bite the Raptors on the defensive glass, Toronto's a top-two offensive rebounding team. No squad had more success against Embiid's Sixers on the offensive glass this season, as the Raps collected 35% of their missed shots against Philly.
The Raptors also turn opponents over more than any other team, which fuels their top-five transition attack, while the Sixers bleed points in transition. Those transition opportunities can dry up in the playoffs, but the offensive rebounding and the opponent turnovers – while the Raptors take care of the ball themselves – are all part of a simple yet effective strategy to end up with more shot attempts than their opponents.
Those factors add up over the course of a 48-minute game, never mind over a long playoff series where separation can be difficult to find.
One way the Sixers can mitigate the effects of Toronto's shot advantage is to continue parading to the free-throw line. Like the Raptors' transition game, however, fouls and free-throw attempts may be harder to come by in the postseason.
Same old issue for Sixers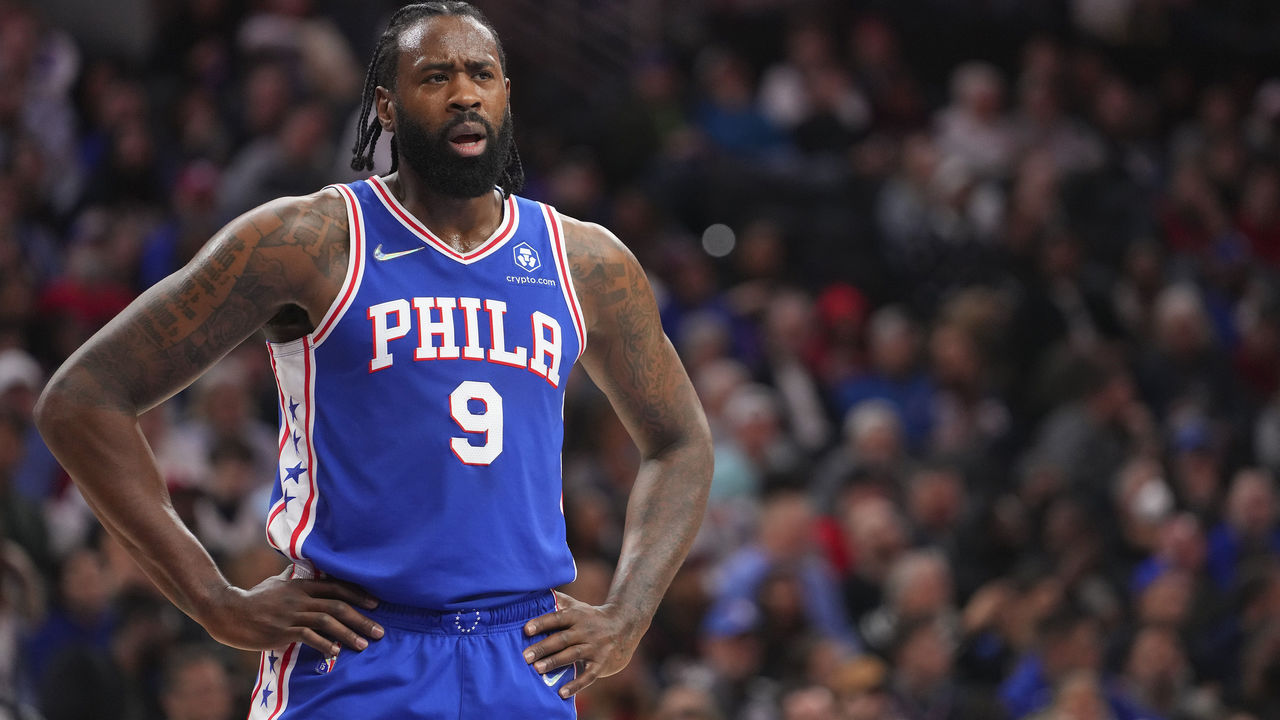 How do the Sixers survive the few minutes when Embiid rests?
It's an age-old question that has led to the team's undoing time and again.
In a Game 7 loss to the Raptors the last time these two teams met in the playoffs, the 76ers outscored Toronto by 10 points in 45 minutes with Embiid on the court but were outscored by 12 in just three minutes without him.
Harden's disappointing play and aforementioned struggles against the Raptors mean his presence alone might not be enough to carry Embiid-less lineups. The Sixers need something – anything – out of their backup center spot.
They're unlikely to get it, especially while Rivers stubbornly continues to stick by DeAndre Jordan despite the veteran big man's obvious ineffectiveness and the improving play of sophomore Paul Reed.
Then again, perhaps swapping Reed for Jordan would amount to shuffling the deck chairs on the Titanic. In the final regular-season matchup against the Raptors on April 7, the Jordan-less Sixers were plus-eight in 37:20 with Embiid on the court and minus-13 in 10:40 with Reed in his place.
Built to quit?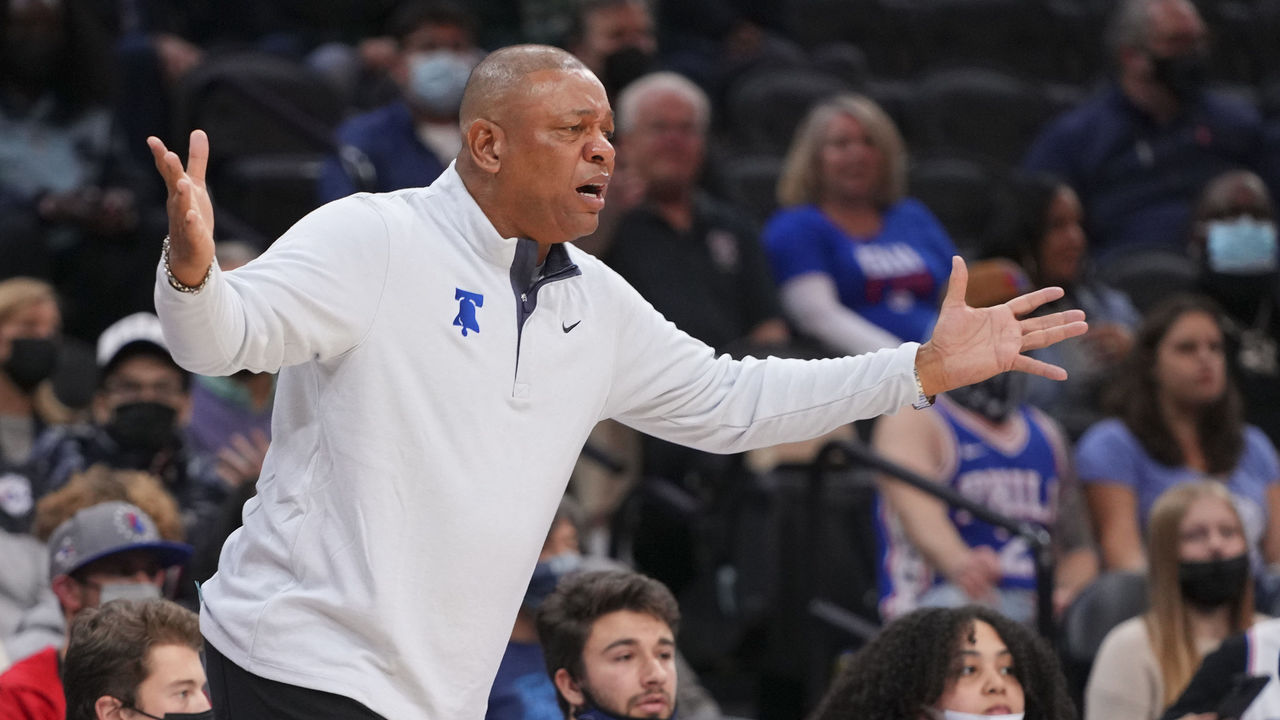 The Sixers have the talent to hit a championship ceiling few teams can reach for, but they also have a much lower floor than traditional title contenders.
Harden at something even close to his best significantly raises that ceiling, but anyone who's watched him when his team faces postseason adversity or finds its back against the wall knows his presence does nothing to change the narrative that the Sixers are uniquely equipped to fold if things start piling up.
Tobias Harris has been allergic to big games and moments throughout his Sixers tenure. Rivers has blown a trio of 3-1 series leads over the last seven years, has lost more Game 7s than any coach in history, and enters the playoffs seemingly already on edge.
Even Embiid has an ugly history with playoff pressure. In seven career elimination games, the star center has shot 42% from the field while committing 35 turnovers and recording only 15 assists.
For as much as the Sixers have failed Embiid when it comes to building a supporting cast, and the incompetence of his teammates has contributed to his failures in make-or-break games, Embiid has to wear at least some of the blame. Few teams would be able to survive their franchise player performing as poorly as Embiid often has in elimination games.
In any event, the Sixers look like the antithesis of a team built for postseason adversity, but the Raptors look tailor-made to bring it to them, and home-court "advantage" in the City of Brotherly Love can turn toxic in a hurry if the home team doesn't show up.
Keep in mind as well that the last team to win a championship after playing more than five games in the first round was the 2014 San Antonio Spurs, and only twice since the NBA adopted a best-of-seven first-round format 19 years ago has a team marched to a championship after going the distance in Round 1.
Joseph Casciaro is a senior writer for theScore.