After 11 consecutive winning seasons, this year's underwhelming version of the Oklahoma City Thunder inspires no fear.
By almost any measure, the Thunder are one of the NBA's worst teams. Only five teams own records worse than OKC's 10-14 mark, while the Thunder possess the league's 29th-ranked offense, a below-average defense, and a bottom-five net rating.
This was seemingly by design, as Oklahoma City's shameless offseason sell-off broke up a winning team that might've been much closer to fringe contention than anyone gave them credit for.
This week, the Lakers were favored by 10.5 points and 12 points, respectively, in their two matchups with Oklahoma City – even without Anthony Davis.
But there's more to the Thunder than meets the eye.
The Lakers won on both occasions, but their combined margin of victory wouldn't have covered even one of the spreads. The Thunder pushed Los Angeles to overtime in both games and were without Shai Gilgeous-Alexander in Wednesday's rematch, when OKC had only eight players available.
It might have been a perfect week for a tanking team: no wins, but respectability in defeat. Here's how the Thunder are both a thorn in the NBA's side today and the league's sleeping giant of tomorrow.
The present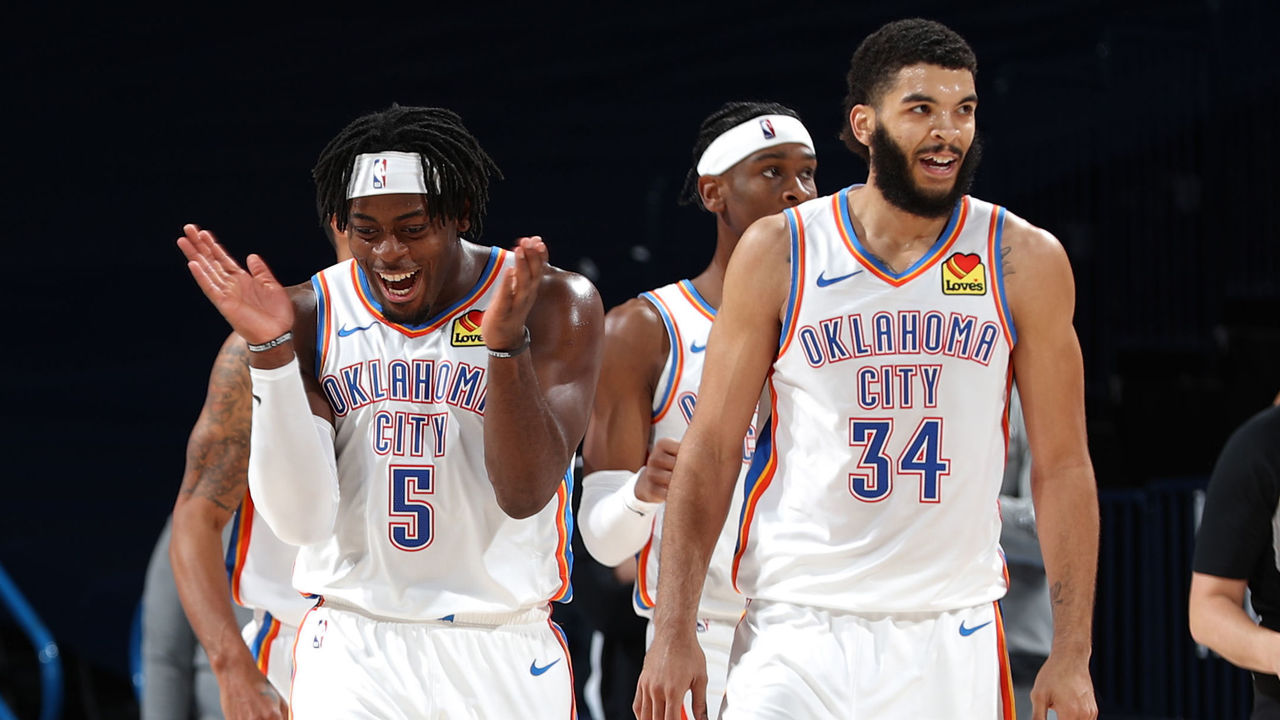 In a predictably compact Western Conference, the 14th-place Thunder are only two games out of the final play-in spot a third of the way through the season. But a quick look at the team's upcoming schedule should quell any thoughts of an unlikely run.
Of Oklahoma City's 12 remaining games on the first-half schedule, 10 come either against winning teams or are on the road. The only sub-.500 Western Conference club that the Thunder face over the next three weeks is Dallas; a preseason contender far better than its 12-14 record.
The losses will pile up, and it's always possible that a team no longer playing meaningful basketball will eventually let go of the rope, especially if management's sell-off continues at the trade deadline. However, the Thunder also have the right blend of young talent, hungry castoffs, and veteran IQ to avoid being hopelessly woeful while they take their lumps.
Wednesday's loss to the Lakers was a perfect example. Al Horford and Kenrich Williams carried the Thunder offensively, while Luguentz Dort led a splendid team effort defensively, and Hamidou Diallo dominated the glass.
The Thunder don't have the offensive talent to score consistently or efficiently, but rookie coach Mark Daigneault (who previously spent time under Billy Donovan with the Thunder and the Florida Gators, and as OKC's G-League head coach) has the team running good sets at that end. Oklahoma City's offense is filled with a lot of movement, sharing, and dribble handoffs. Without Gilgeous-Alexander on Wednesday, all seven Thunder players who logged more than 15 minutes recorded multiple assists. Five Thunder players had at least four.
The Thunder's defensive identity is all length and effort. Dort rightly got most of the praise this week for his defensive work against LeBron James, but the entire team is locked in on every possession. Just look at Williams' communication and Justin Jackson's focus, as the pair try to keep LeBron from beating them and Jackson fights off a screen:
There's nothing advanced about that clip. It doesn't get to the root of Daigneault's defensive philosophies or schemes. But it does say a lot about how the overmatched Thunder have remained so pesky, and why there's no such thing as an easy victory against them, as the champs are now aware.
The bridge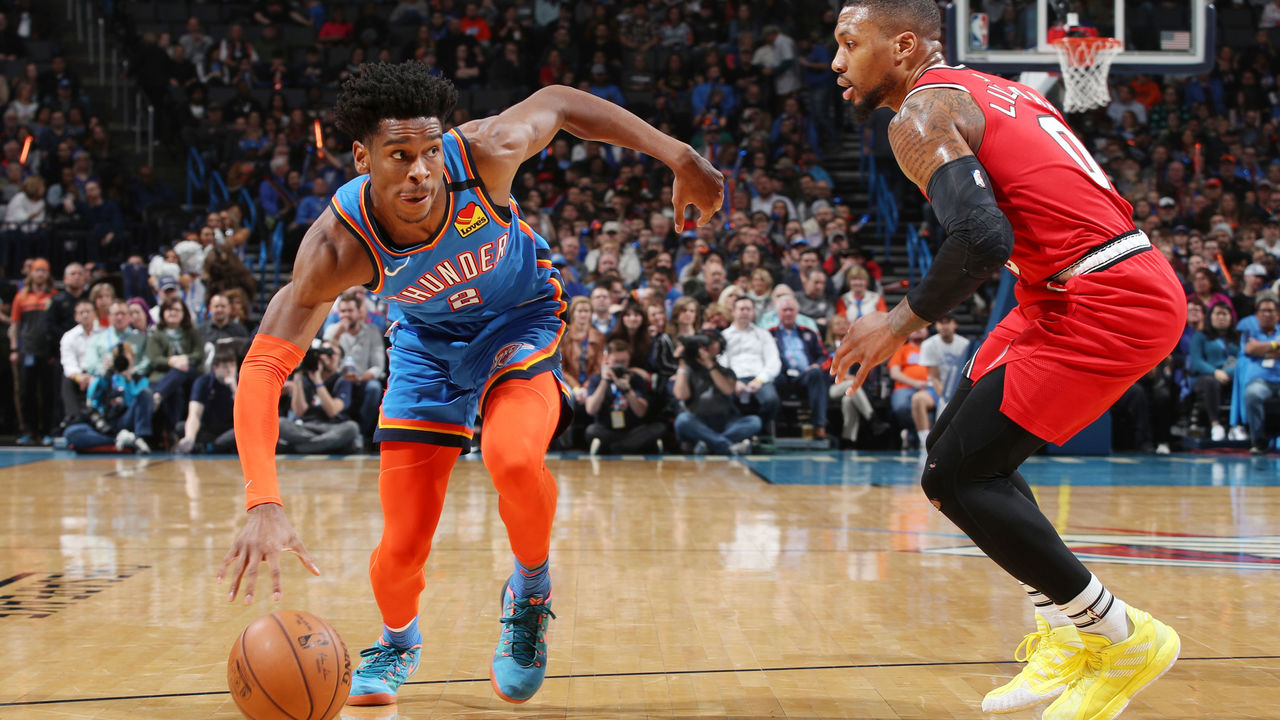 Gilgeous-Alexander is the lanky bridge that connects the feisty Thunder of today to the potential juggernaut of tomorrow.
His game took a sizeable leap last season. He thrived while beside and learning from Chris Paul on a surprising playoff team after the Thunder acquired the young guard in the deal that sent Paul George to the Clippers.
The makeup of this year's Thunder, however, looked tailor-made to plunge Gilgeous-Alexander's efficiency. Surely, he would struggle to shoulder the offensive burden that comes with being the lead ball-handler and top scoring option for a bad team with an anemic supporting cast.
Instead, the third-year guard has excelled, averaging 22.6 points, 6.5 assists, and 5.5 rebounds on 51-38-77 shooting. With few competent release valves around him, Gilgeous-Alexander's turnover rate has climbed, but the 22-year-old is also shooting better than the league average from almost every area of the floor and hasn't let his defensive effort falter despite his increased offensive responsibilities.
The Thunder may not score efficiently when Gilgeous-Alexander's on the court, but at least they resemble a functional NBA team. Their offensive rating of 108.4 when their star guard is on the floor would rank 23rd this season; without him, it drops to 97.0, worse than any team has posted over the last six years.
To further put Gilgeous-Alexander's offensive excellence into perspective, consider the exclusive list of stars who have averaged at least 22 points and six assists on 61% true shooting in the 3-point era: Larry Bird, Michael Jordan, Magic Johnson, LeBron James, James Harden, Stephen Curry, Kyle Lowry, Damian Lillard, and Devin Booker.
Gilgeous-Alexander's exploits on the offensive end are mind-blowing considering the dearth of capable scorers, creators, or shooters around him. What he's doing offensively, given his age and defensive upside, indicates Oklahoma City has the type of foundational star whom future championship teams are built upon.
As Gilgeous-Alexander continues to develop as a two-way stud, the next step for the Thunder is finding a couple more of those foundational stars.
The future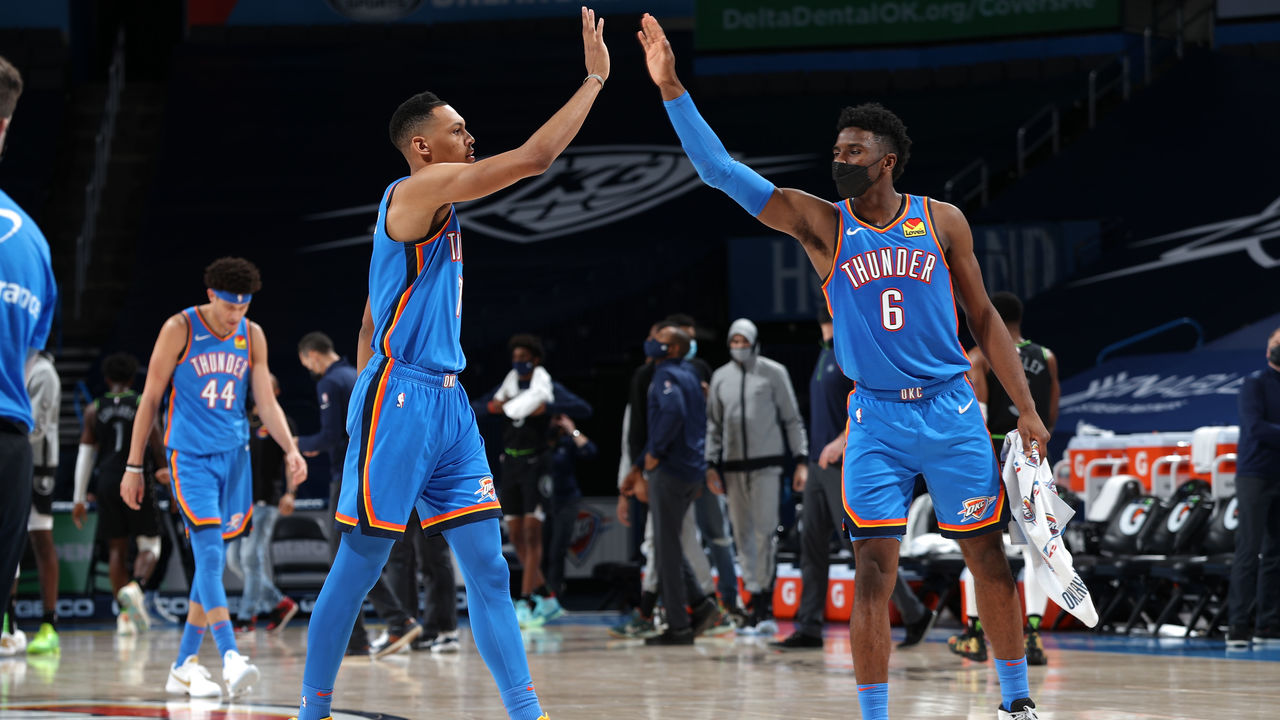 Gilgeous-Alexander is the one true blue-chipper among OKC's ranks, but he's not the only exciting youngster.
Dort's development has been one of the NBA's most stunning stories over the last year-and-a-half. From undrafted in 2019 to playoff starter in 2020 to now one of the NBA's best on-ball defenders, Dort's rapid progression could be a key catalyst for the Thunder.
As an undrafted player, Dort's first NBA contract wasn't guaranteed, nor was it as long or as structured by rules as those of drafted rookies. Because of this, the Thunder were already able to extend Dort last year and now have the 21-year-old locked up through 2023 on a non-guaranteed contract that will pay him less than $3.8 million combined over the next two seasons.
While that level of compensation is a disservice to Dort's contributions, it's a boon for the Thunder. Dort's an all-world defender who has already shown flashes of 3-point respectability. No one outside of the game's top-tier superstars provides more bang for the buck than Dort does on his current contract, and good players being underpaid allows teams to acquire more talent than the salary cap would usually allow.
Having homegrown talent under team control also helps in that regard.
Pending restricted free agent Diallo has quietly been one of the league's most improved players this season, with his better playmaking a particularly stunning development. Darius Bazley is slowly adding to his game. 2019 second-rounder Isaiah Roby is averaging 20 minutes per contest and is surprising opponents with his ability to finish inside and his offensive rebounding prowess.
International rookies Aleksej Pokusevski and Theo Maledon are still young, raw, and intriguing enough that even if they don't end up being long-term contributors in Oklahoma City, another team will consider them worth acquiring.
Between Dort, Diallo, Bazley, Roby, and the two rookies, the Thunder have at least a couple of keepers to complement Gilgeous-Alexander when the team is ready to turn the corner and numerous options to construct future trade packages around.
In addition to all of that intriguing young talent, trading George, Russell Westbrook, Chris Paul, and others over the last 19 months left general manager Sam Presti with an unprecedented collection of draft capital. The Thunder control 13 first-round picks over the next seven years and could add to that haul if they find takers for Horford, George Hill, and even Trevor Ariza before next month's deadline. (In Horford's case, the Thunder would likely have to attach picks to the veteran big man's lucrative contract.)
Oklahoma City will never be a free-agent destination, but in terms of trying to build a sustainable winner in a non-glamour market, it's tough to envision a better starting point than where the Thunder currently reside.
They have one star already in tow and should be bad enough to land a high pick in what's projected to be a loaded 2021 draft class. They have the young talent plus draft assets necessary to enter the bidding for the next disgruntled superstar who hits the trade market. The Thunder have so many future picks that they could trade for a superstar and still have a trove of selections left over to trade for the next disgruntled star after that.
There's a giant in there somewhere just waiting to mature. In the meantime, the 2021 Thunder soldier on as the NBA's pluckiest and most promising bad team.