The 2020 NBA Christmas Day slate was pretty light on drama. All five games ended in double-digit blowouts, with the losing teams rarely getting within shouting distance in the second half.
Still, there's always something to be gleaned from a full day of basketball, so here's one observation from each Christmas Day game:
Miami runs on Duncan
Despite losing Jimmy Butler to ankle soreness after the first half, the Heat managed to hold off the Pelicans thanks to a strong offensive showing that included a 16-of-37 mark on 3-pointers. As is often the case, Duncan Robinson did the bulk of the heavy lifting on the long-range shooting front, tying a Christmas Day record by knocking down seven of his 13 threes. And while Robinson will justifiably earn praise for that feat, creating those 3-point looks was a full team effort.
What's almost as impressive as Robinson's otherworldly shooting ability is the Heat continually springing him open despite the fact he now sits atop every opposing team's scouting report. That takes a special combination of unpredictable off-ball movement from Robinson, ingenuity from Miami's coaching staff, and cooperation from the other players on the floor.
It's simple enough to say the opposition should just keep a body on Robinson no matter what, and strictly speaking, that's true. But that's really difficult to execute in real-time, especially with the bewildering nature of Miami's cyclonic offense.
Defenders often get lost in the Heat's constant whir of motion, causing breakdowns that force emergency help rotations. Take these two Robinson threes from Friday's game, for example:
On the first one, Avery Bradley dragged JJ Redick with him in transition – and got a backpedaling Josh Hart to lean in his direction – by sprinting up the left sideline like all hell, leaving Robinson unattended as the trailer.
On the second, Bradley back-cut Redick from the strong-side corner at the same time that Bam Adebayo pulled Jaxson Hayes away from the rim with the threat of a screen for Goran Dragic. That forced Hart to pull over from the weak side after Dragic threaded a pass to Bradley, which left Robinson wide open in the corner.
Yes, the Pelicans made mistakes on both plays. On the first, Hayes should have peeled off toward Robinson on the wing after recognizing Hart had Dragic covered, and on the second, Zion Williamson needed to rotate toward Robinson much earlier.
But the Heat force defenses to make those kinds of mistakes. They either leverage other threats to open up shots for Robinson, or leverage the threat of Robinson's shooting to free up options elsewhere. During their Christmas Day matinee, they skewed more toward the former than the latter, allowing their marksman to claim a small piece of history.
For Warriors, a glimmer of light in the darkness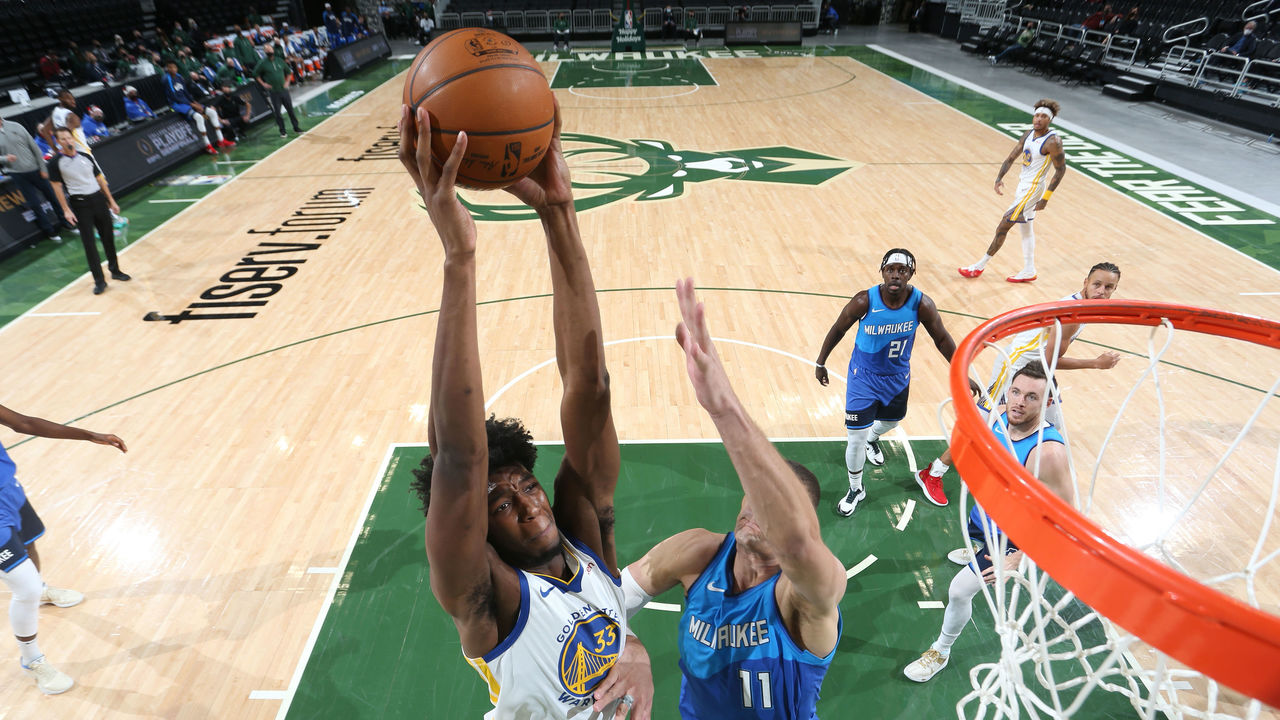 Things are undeniably grim for the Warriors right now. They dropped to 0-2 on the season with a 39-point Christmas Day loss to the Bucks, and the team hasn't looked competitive for a moment in either of its first two games.
It doesn't help that Golden State has played without Draymond Green against two top teams, but the club's lack of shooting and off-the-dribble creation outside of Steph Curry will be a persistent issue, and it'll make this season challenging. The lone bright spot so far: the play of rookie big man James Wiseman.
Wiseman's physical tools were undeniable coming out of the draft, and at the very least, it seemed like he'd be an effective dive man from the jump. But his flashes of ball skill, shooting range, and feel for the game have been revelatory.
The 19-year-old has shown the ability to put the ball on the floor and create some of his own offense. He's the only Warrior who's consistently capitalizing on the advantages Curry creates. And so far, he's hitting his threes. He scored 18 points over 25 minutes Friday, mainly by playing off of Curry in the pick-and-roll and shooting 3-of-4 from deep.
His jump shot looks encouraging, even if Wiseman's release is slow. He's letting it fly without hesitation, and his high release point makes it basically unblockable. He's also quickly developed a nice two-man synergy with Curry despite not playing in the preseason. Wiseman still has a long way to go, as there are too many screens he either slips out of too early or just doesn't connect on, and there are others he holds for too long before starting his roll. But the fact that he's been so effective without fully nailing down the timing is a good sign. Curry is going to rely on him a lot as an escape valve.
Wiseman's defensive awareness has been slower to develop, but his combination of size and mobility can occasionally make up for a rotation that's a little late, as we saw on this impressive block of D.J. Augustin:
He also recorded a ridiculous block in garbage time when Wiseman straight-up snatched the ball out of the air. The rookie may not do much to brighten the Warriors' outlook for this season, but he's a ray of light at the end of a dark tunnel.
Nets show they can do it with defense
The biggest story from the Nets-Celtics game was the sterling play of Kyrie Irving and Kevin Durant, who combined for 66 points on 43 total shooting possessions in a runaway Brooklyn win. But the offensive brilliance of those two has been established, and there was never any doubt the Nets' offense would be elite this year.
Brooklyn's Achilles heel (sorry) was expected to be its defense. But the club has looked surprisingly stout at that end of the floor thus far, and the Nets gave the Celtics all kinds of problems during their Christmas Day showdown.
In spite of the Nets' dearth of high-end individual defenders, their communication and collective effort produced great team defense. They switched liberally one through four, stunted aggressively toward the middle, and played a very effective drop-and-chase with their centers in the pick-and-roll. The Nets benefit from a ton of size, and they used it to shrink the floor while trapping Boston's ball-handlers in mid-range jail. Their point-of-attack defenders (up to and including Irving) did a great job of running the Celtics off the arc and funneling them toward DeAndre Jordan and Jarrett Allen.
They limited the Celtics to just 27 3-point attempts while coaxing them into 41 2-point shots outside the restricted area. Boston hit just 12 of those attempts (29%), and the Celtics shot a modest 56.7% at the rim. Allen was impenetrable on the back line, and Brooklyn was especially sharp when he was out there, posting a 90.9 defensive rating and outscoring Boston by 18 points in just 21 minutes. Allen blocked four shots, and that badly undersells his impact while deterring and altering shots at the rim.
Durant, whose defense was a question mark coming into the season due to the injury he's returning from, also contributed significantly to Brooklyn's stinginess. He bothered Jayson Tatum in man-to-man coverage, and Durant was active as a helper. When the Nets opted to downsize, they mitigated the lack of rim protection by collapsing on drives to an almost comical degree, getting away with it because of Durant's ability to zone up the weak side while utilizing his ridiculous length.
Watch how he baited Tatum into throwing this emergency kickout pass to the corner by stunting toward the wing:
The Nets obviously need to prove they can sustain this level of defensive focus and effort, but the early returns are very, very encouraging.
Dallas really misses Porzingis
Shocking, I know. What team wouldn't miss its clear second-best player?
But the Mavericks actually fared pretty well with Kristaps Porzingis on the bench last season, outscoring opponents by 3.5 points per 100 possessions. The Lakers, however, exposed how flimsy Dallas is up front without its 7-foot-3 unicorn, especially with Dwight Powell looking somewhat hampered coming off an Achilles tear. They mauled the Mavs on the glass, tearing through them like tissue paper at the rim en route to a 138-115 victory.
L.A. outrebounded Dallas 17-3 on the offensive glass, and the Lakers went a seemingly impossible 21-for-22 shooting in the restricted area. Montrezl Harrell led the second-chance brigade and shot 10-of-13 from the field on an array of short-range push shots with minimal resistance. Anthony Davis, who would typically be Porzingis' assignment in this matchup, was similarly undisturbed, racking up 28 points on 19 shooting possessions against Powell and Maxi Kleber.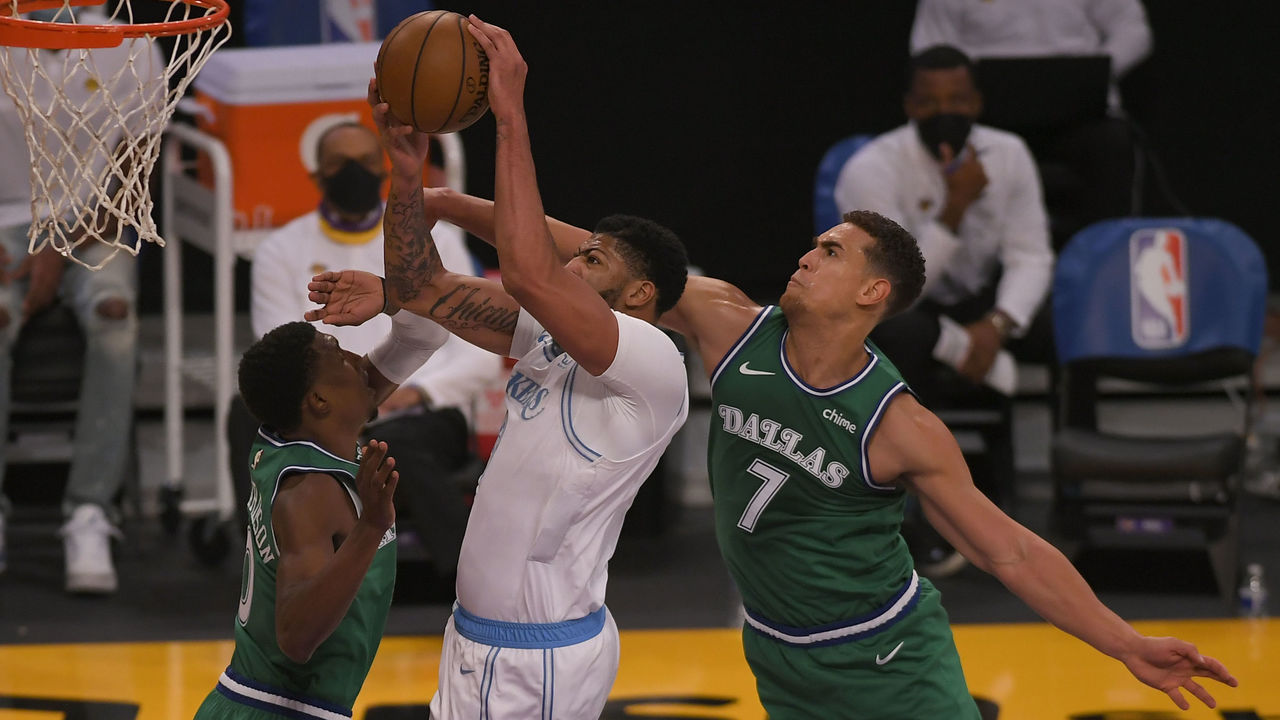 It's not like Dallas is a small team. Even without Porzingis, it features 7-foot centers in Powell and Willie Cauley-Stein, a 6-foot-10 hybrid big in Kleber, and the 7-foot-4 Boban Marjanovic, who got dusted off for seven minutes in this one. Porzingis didn't even affect the team's rebounding rate last season – it was exactly the same with him on court as it was without him – so it's hard to imagine he would've helped them on that front against Los Angeles. But he's by far their best rim-protector, and, just as importantly, he would've made the Lakers work at the other end in a way the Mavs' other bigs could not.
Offensively for Dallas, Luka Doncic couldn't fully shake loose without his usual pick-and-pop accomplice drawing opposing bigs away from the basket. Marc Gasol managed to effectively deter Doncic in the pick-and-roll by executing shallow drops and soft hedges while the Lakers' guards chased overtop. Those actions obviously would've been a lot more difficult for the slow-footed Gasol to navigate if he needed to account for the threat of Porzingis as a popper.
Porzingis' absence won't be this glaring against every team. Heck, it might not be this glaring against any other team. But the Lakers are designed to win on the interior at both ends of the floor. Without their best option for anchoring the paint at one end, and dragging opponents out of it at the other, the Mavs looked kind of helpless. They'll have to hold the fort for a few more weeks without Porzingis.
A different-looking Clippers team
Any team is going to look good when it sinks 50% of its 3-point attempts, but from a process perspective, it feels like the Clippers are turning over a new leaf of sorts. Steamrolling the club that humbled them in the playoffs last year, despite losing Kawhi Leonard after a scary fourth-quarter collision, seemed like a symbolic illustration of their evolution.
New head coach Tyronn Lue has mostly been true to his word while changing the shape of the team's offense. The biggest difference: The Clippers are moving more, passing more, and shooting more threes. On Friday night, more than half of their field-goal attempts came from beyond the arc, something Los Angeles did only twice last season (the team went 19-for-38 shooting). And after throwing an average of 271 passes per game in 2019-20 (which ranked 28th in the league), the Clippers are averaging 317 through two games, including 320 during Friday's contest.
Lue also said he wants to get the Clippers playing faster, and so far that hasn't really happened (their game against the Nuggets actually registered as the slowest-paced matchup of the season so far). But there's undeniably a greater sense of purpose to the Clippers' offense. The ball seems to be moving faster and the unit is being more decisive, even if shots aren't actually going up any quicker. The Clippers recorded assists on 32 of their 41 made baskets against the Nuggets, a higher percentage than they produced in any game last season.
That uptick is partly the result of adding more playmakers to the roster. The Clippers may not have inked the point guard they sought this offseason, but Luke Kennard and Nicolas Batum are giving them a jolt of passing ability and willingness.
Batum, in particular, has been a revelation. He's done wonders for the team's offensive structure, and the Clippers are leaning on him as a facilitator from the top of the floor who can deliver the ball to Leonard and Paul George in the post or on the move. Less initiating responsibility for Leonard means more opportunity for fun stuff like this:
Leonard and George, for their part, are setting the tone by playing a more team-friendly brand of basketball, isolating less and generally operating more within the flow of the offense. They really got into the spirit of giving on Christmas, combining for 16 assists. George was making some of the more impressive skip passes of his career, and he continues to play like a man with something to prove (which, yeah, he does).
All told, it was a much different-looking Clippers outfit from the one whose spirits were broken by the Nuggets in the conference semifinals. Now let's see if L.A. can keep it up.