Evan Mobley and Scottie Barnes are heading for a photo finish in the Rookie of the Year race with less than a handful of regular-season games remaining.
The pair cemented themselves as the top first-year players based on their bodies of work over the 2021-22 campaign. A few other rookies deserve plenty of recognition, too, especially the class' No. 1 selection over in Detroit.
Without further ado, we present our final edition of this season's Rookie of the Year rankings.
5. Jalen Green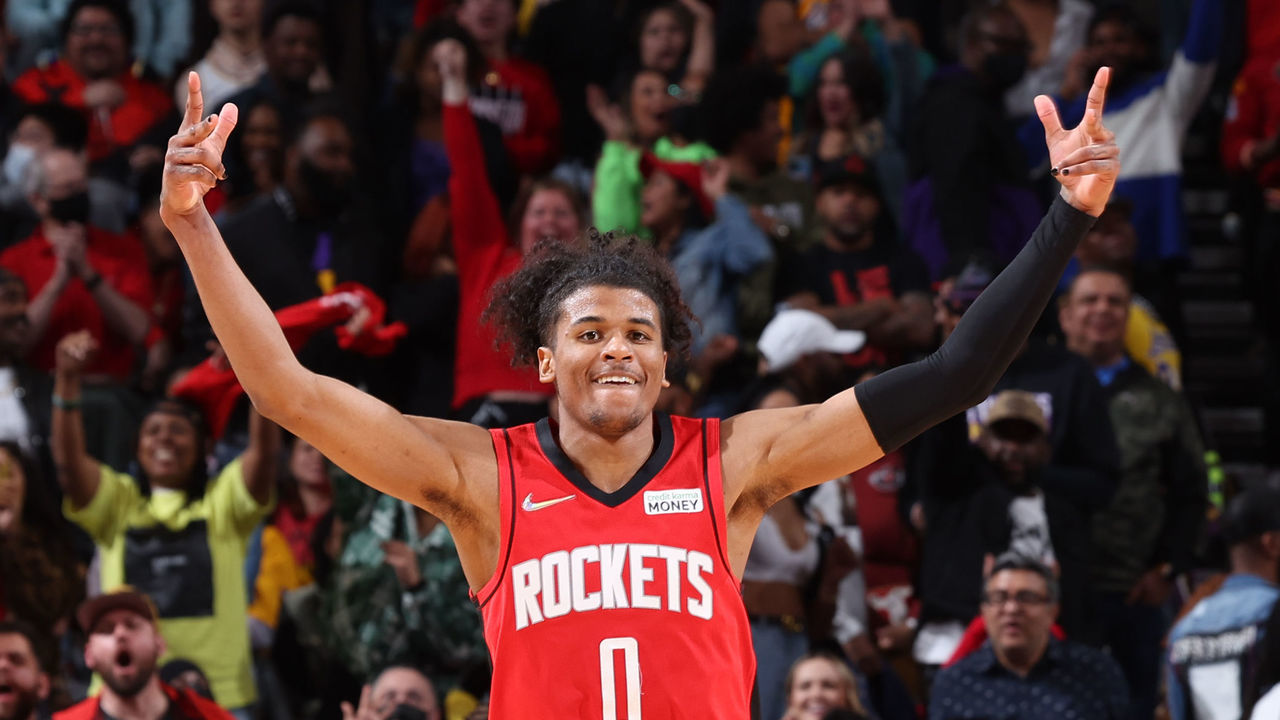 Previous rank: N/A
Green has been a walking bucket of late for the Houston Rockets and appears to finally be getting comfortable with the NBA game – at least on the offensive end. He scored at least 30 points in five straight games from March 28 to April 5, which was the hottest stretch of his young career.
Green is playing on a whole other level since the All-Star break. The 20-year-old is averaging 21.3 points while shooting 47.2% from the field and 38.9% on almost eight 3-point attempts per game since Feb. 25, showing flashes of the offensive dominance that made him the No. 2 pick. Before the All-Star break, Green averaged a subpar 14.6 points on 38.7% shooting, including 31.1% efficiency from distance.
For all of his strides offensively, Green must improve on the defensive end as he progresses in his career. His 116.7 defensive rating ranks 547th out of 595 qualified players and is the third-worst among players who average 30 minutes or more per game.
4. Franz Wagner
Previous rank: 5
Consistency and durability defined Wagner's rookie season. The Michigan product was one of the Orlando Magic's few bright spots in another dreadful campaign in which the team lost more than 55 games – the fifth time it's done so in the last 10 years.
The No. 8 pick in last June's draft made 77 consecutive starts before being forced to exit against the Toronto Raptors on April 1 after just 20 seconds of action because of a left ankle sprain. Wagner returned to the starting lineup after being sidelined for just one game but sprained his right ankle again April 5. Hopefully, his ankle troubles prove to be a minor obstacle in what's been an otherwise healthy rookie season.
Wagner is a reliable and efficient scorer. He averages 15.2 points with a stellar 47/35/86 shooting line while also contributing 4.5 rebounds, 2.9 assists, and 0.9 steals in 30.7 minutes per game. He's shot 50% or better in 37 of his 79 career appearances and has 16 20-point games and one 30-point showing.
3. Cade Cunningham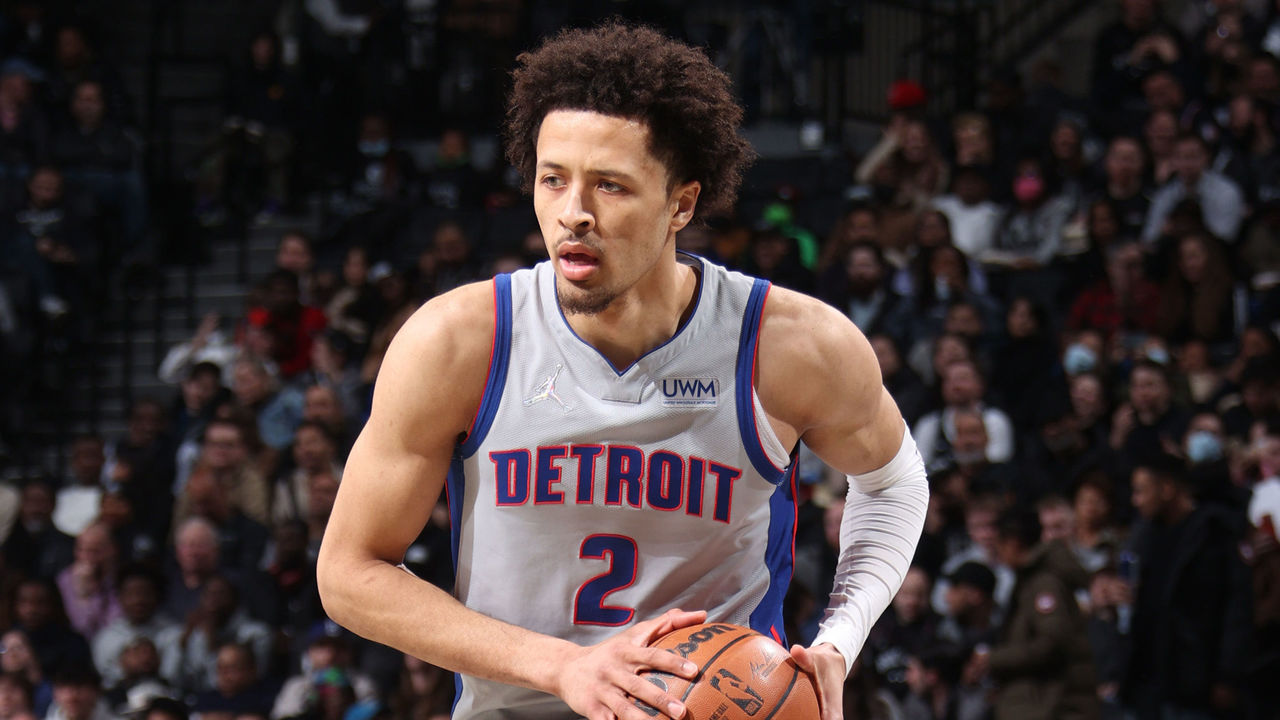 Previous rank: 3
Cunningham got off to an inconsistent start but has turned his fortunes around for the Detroit Pistons. The No. 1 pick is getting more comfortable each game, especially with how he's able to dissect opposing defenses and get to his spots.
The Pistons' franchise cornerstone leads all rookies in scoring at 17.4 points per game. He's put together well-rounded performances more often than most of his first-year counterparts, with seven games tallying at least 25 points, seven rebounds, and seven assists. All other rookies have seven such games combined with those totals.
Cunningham entered rare territory in March by posting 22.9 points, 5.9 rebounds, and seven assists per game to join Michael Jordan and Oscar Robertson as the only rookies in NBA history to average at least those totals over a calendar month. The future is bright in Motown.
2. Evan Mobley
Previous rank: 1
After maintaining a hold on the top spot for the past two months, Mobley's reign has finally come to an end.
He remains an impressive producer for the Cleveland Cavaliers, leading all first-year players with 111 blocks – over 40 more than the second-ranked rookie, Alperen Sengun. Mobley will also finish the season ranked second among rookies in total rebounds and in the top five in both total points and field goals made.
Mobley's defensive impact waned significantly after the All-Star break, especially since frontcourt partner Jarrett Allen went down with a fractured finger March 6. Across 14 games in March, Mobley posted by far his worst individual defensive rating over a full month at 117.4, which marked a nearly nine-point increase from his defensive rating in February. He also posted a minus-6.1 net rating in March, indicating Cleveland fared better when he was on the bench – and that perhaps Allen was the largest reason behind the Cavs' defensive resurgence after all.
The USC product was also recently sidelined with an ankle sprain that cost him five games. Any missed time at this stage of a tightly contested Rookie of the Year race is pivotal.
1. Scottie Barnes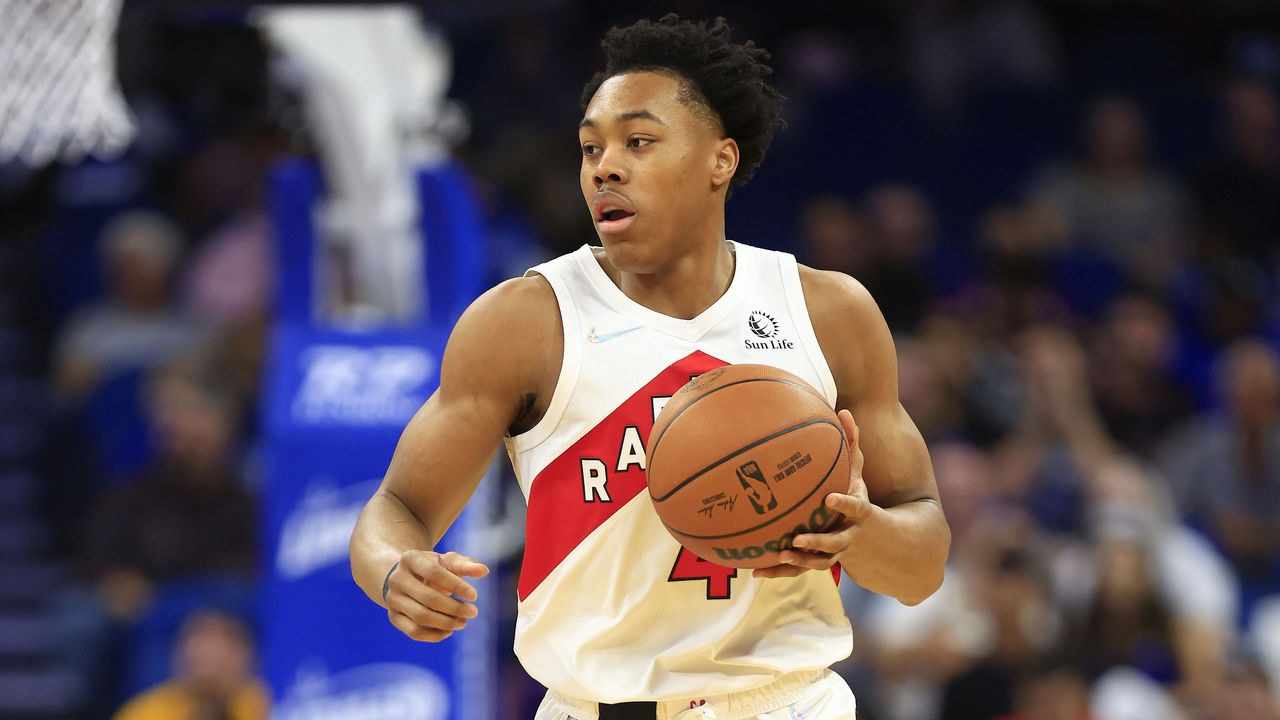 Previous rank: 2
Barnes surpassed Mobley for the top spot on this list thanks to his superb play that's helped Toronto climb up the standings down the stretch.
The Florida State product is putting up 15.4 points, 7.6 rebounds, 3.4 assists, 1.1 steals, and 0.8 blocks per game. Only three other rookies since 2010 – Luka Doncic, Ben Simmons, and Blake Griffin – averaged at least 15 points, seven rebounds, and three assists over a full season – and all three won Rookie of the Year. Barnes is also the only rookie ranked top-five in points, rebounds, assists, steals, blocks, field goals, and minutes.
Unsurprisingly, the Raptors have been rolling of late thanks in part to Barnes' play, winning 14 of their past 17 games to surpass Mobley's Cavaliers in the standings and secure a top-six seed. Barnes makes an impact from all over the floor in head coach Nick Nurse's positionless scheme. Whether he's operating as a point guard or centering small-ball lineups, the 20-year-old can regularly take advantage of mismatches down low using his 6-foot-9 frame while also wreaking havoc on opposing defenses as an on-ball pest.
If you combine Barnes' hot stretch with the Raptors' ascension and compare it to Mobley's injury and waning defensive impact without Allen, you start to see why Barnes has assumed the lead.
The Raptors rookie has better head-to-head numbers than Mobley. Barnes averages more points, assists, and steals, and he's also accrued more win shares, a higher VORP, and a better offensive rating. His effective field-goal percentage and efficiency on threes and free throws are all higher than Mobley's, too.
Honorable mention: Josh Giddey
The Oklahoma City Thunder floor general held a position in the top five for the bulk of the 2021-22 campaign but has been sidelined since Feb. 24 with a hip injury, missing the final 23 games of the season. Giddey finishes his rookie year with averages of 12.5 points, 7.8 rebounds, 6.4 assists, and a 42/26/71 shooting line in 54 games.