Mike Conley has always been an intensely cerebral player. He's an offensive organizer, a floor general in the truest sense. He studies film of his teammates to find their rhythms and favorite spots on the floor. He's talked on multiple occasions about the mental clock he keeps for each player on the court to remind himself of when it's time to get them involved, all without losing sight of his own scoring role.
As a result, it should come as no surprise that being thrown into an unfamiliar ecosystem in Utah last year, even one that appeared well-suited to his skill set, proved to be a difficult transition. Conley struggled to find his role in the Jazz's ornate offensive structure. As he stumbled out of the gate, you could see the gears turning in his head. It was almost like sensory overload. As he told ESPN's Adrian Wojnarowski recently, "I think I was thinking more last year than going out there and just playing."
A hamstring injury complicated things even further. Conley started slow, then got hurt, then watched the Jazz go on a tear without him, and returned to action in a bench role. He ultimately took the hiccups in stride and grew increasingly comfortable as the season progressed. By the time he rejoined the team in the bubble partway through its first-round playoff series against Denver (after leaving to be present for the birth of his son), he was starting again – and looking like Conley. It's no coincidence Utah's offense looked far better in that series than it had at any point in the season.
In Year 2 with Utah, the 33-year-old has picked up where he left off and then some, helping guide the team to the league's top record, the fourth-ranked offense, and the second-best net rating a third of the way through the season. Let's take a look at how that change has come about.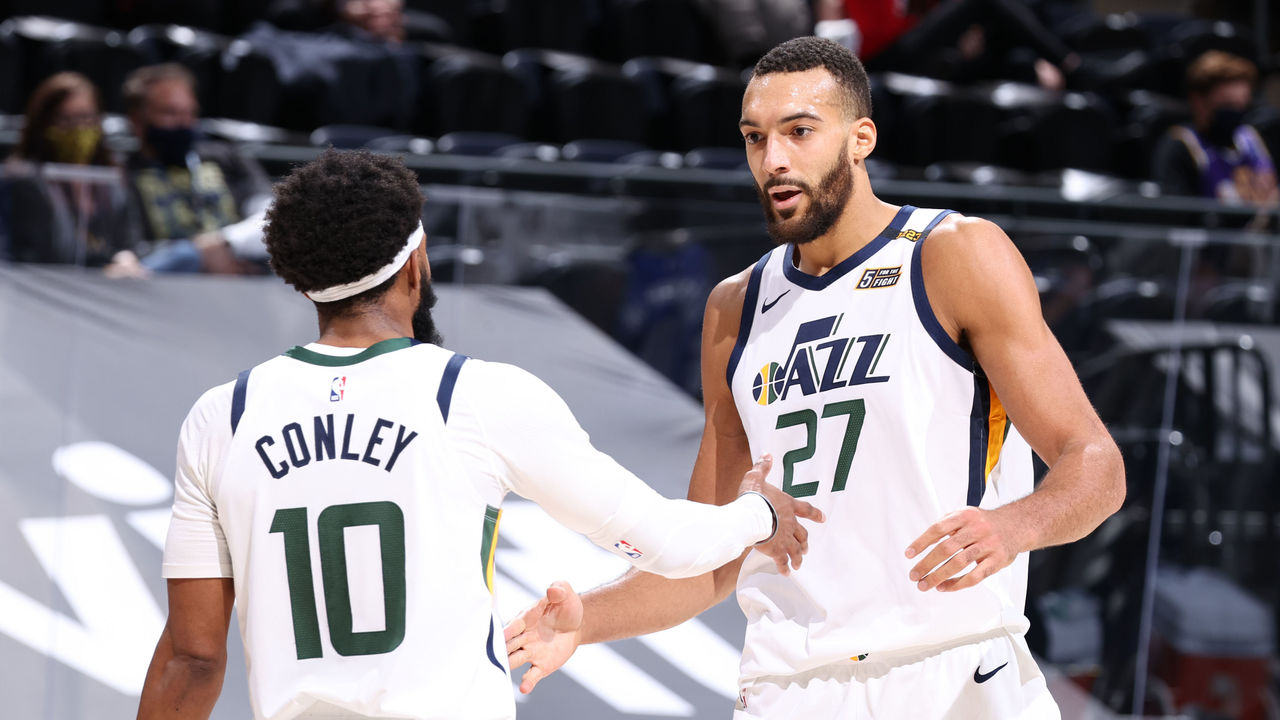 The 2019-20 Jazz weren't bad, but they were something of a disappointment given the offseason buzz they'd generated by trading for Conley and signing Bogdan Bogdanovic as a free agent. For Conley, in particular, expectations were high. He was coming off a career year and walking into a seemingly ideal situation, one in which he could relieve the excessive burden of shot creation from Donovan Mitchell without having to shoulder too much of that load himself. He also could operate in the kind of spread offense he never got to experience in Memphis.
Conley had never played alongside a consistent vertical threat, or even an especially dangerous stretch four. After a decade orchestrating the two-man game with the short-rolling Marc Gasol, he wasn't accustomed to throwing lobs, but he was one of the league's pre-eminent practitioners of the floater; given the way Rudy Gobert's gravity pulls opposing drop-back bigs deeper into the paint, Conley figured to have more opportunities to get that floater off, while also using the threat of the lob to disguise it (or vice versa).
But while he and Gobert surrounded by shooters seemed like a match made in pick-and-roll heaven, they evidently needed a lot of reps to iron out their timing before the partnership could blossom.
"I've had to work on taking extra dribbles because I'm so used to getting off the ball to that short roller," Conley said last season. "With Rudy the first few weeks, I was picking the ball up at the free-throw line looking to make a play. Now I'm taking one or two dribbles, getting closer and closer, because they continue to drop, and it either leaves a shorter floater or a shorter lob. So, I'm just trying to get used to that, trying to break the habits."
Conley's cadence, patience, and decision-making in ball-screen actions have been demonstrably better this season. He's taking those aforementioned extra dribbles, using more hesitations and ball fakes, and modulating his pace to keep defenses guessing and give Gobert more time to roll. He's forcing the defense to commit, or simply paralyzing them with indecision, before making a play himself:
Contrast that with how comparatively rushed he looked last year when he'd often kill his dribble early and force a bad pass or fling up a floater from the free-throw line without waiting for Gobert to finish rolling:
He's since figured out how to use Gobert's roll gravity to his advantage: after shooting an abysmal 33.3% on floaters out of the pick-and-roll in 2019-20, he's back up to a scorching 58.3% on his signature shot, according to Synergy. The Jazz's offensive rating when he and Gobert share the floor has jumped from 109.5 to 115.5.
He's also making Gobert's gravity work for Utah's spot-up shooters. Perhaps because of how hard he had to work to nail down his timing with the big man last season, he frequently failed to recognize where extra layers of help were coming from. Now he's making snap reads and skipping the ball to the corner while weak-side defenders are still in the process of stunting toward the middle to deter the roll:
Conley has nearly doubled his rate of 3-point assists, from 1.7 per game last season to 3.2 this year, according to PBPStats.com. All told, the Jazz are scoring 1.1 points per possession when he either shoots or passes to a shooter out of the pick-and-roll, up from 0.93 in 2019-20.
Conley's posting a career-high 56% effective field-goal percentage, aided by a 41% mark from 3-point range on 6.8 attempts per game. The biggest improvement has come in his off-the-dribble marksmanship. He's shooting 38.6% on 3.8 pull-up threes per game, which is not only considerably better than last year (33.8% on 2.9 attempts) but represents a combination of volume and accuracy he's only really come close to matching in one other season (2016-17), according to NBA Advanced Stats.
Conley's more dangerous pull-up game has changed the way defenses react to him in the pick-and-roll, and he's leveraged that threat into more profitable looks for his teammates. He's already seen more traps this year (seven) than he did all of last season (six), and the Jazz have scored on every single possession in which he's been blitzed, according to Synergy.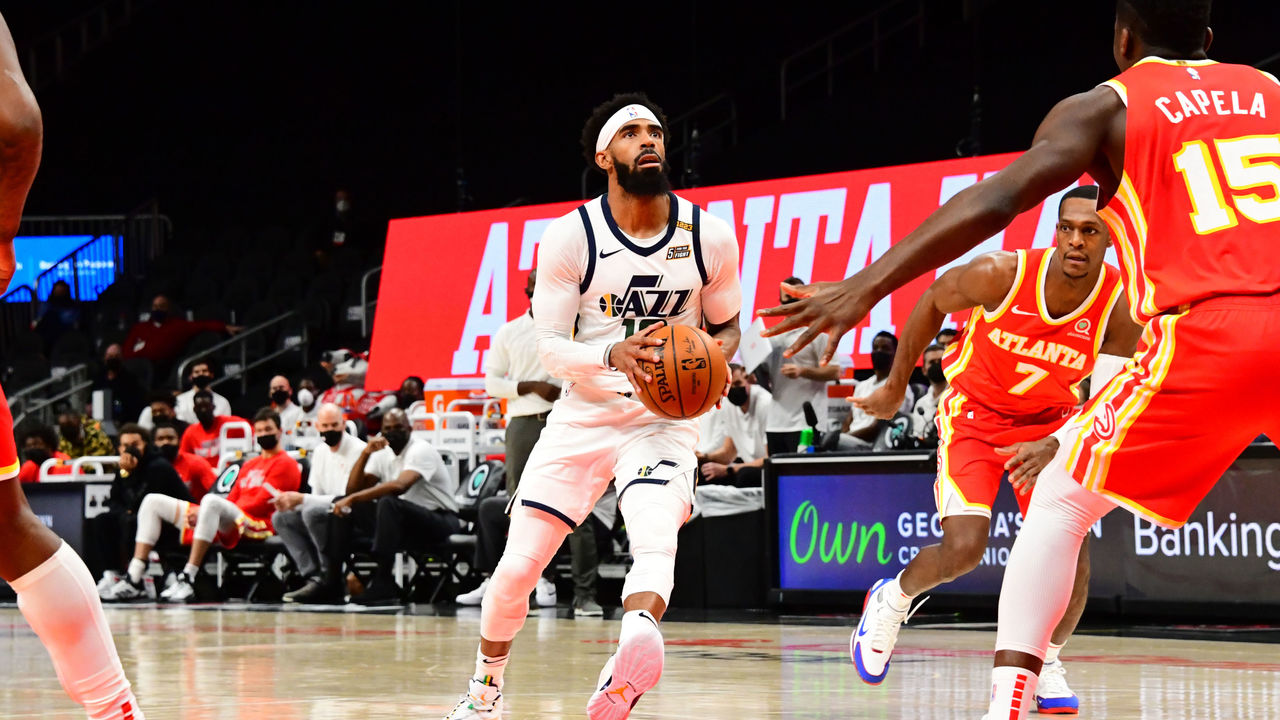 The Jazz are getting great performances up and down the roster, and they're shooting the lights out as a team. But more than anything, it's Conley's revival that has them looking like the team so many of us expected them to be last season; one that pairs its stout defense with an equally dynamic offense featuring two high-end creators, an elite dive man, and an army of 3-point gunners operating in Quin Snyder's motion-heavy scheme.
With multiple secondary playmakers capable of playing off Mitchell and Conley and creating off the catch – namely Jordan Clarkson, Bogdanovic, and Joe Ingles – they flow seamlessly from one pick-and-roll into the next, use constant ball-reversals to jump-start actions on the far side of the floor, and scramble opposing defenses into oblivion. The newfound synergy simply comes down to familiarity. He, Ingles, and Bogdanovic overlapped for just 13 games last season due to injuries, and Clarkson didn't arrive until midseason.
"The more I've gotten to run reps with these guys, the more I got to know where they're gonna be at," Conley told Andy Larsen of the Salt Lake Tribune. "Now we're just throwing passes to spots on the floor."
Conley's confidence running Utah's offense has also engendered a healthier division of labor between him and his backcourt mate. Mitchell began the season as the Jazz's primary on-ball guard (he was averaging 6.1 minutes of possession per game while Conley was at 4.8 in four games before the calendar flipped to 2021), but since the start of the new year, Conley's spent 5.3 minutes a game with the ball in his hands, and Mitchell is down to 5.1. Conley uses his on-ball possessions to be more of a playmaker, where Mitchell uses his to seek out scoring opportunities, but the two have become interchangeable as initiators.
"I've had the ball a lot more than I initially started with," Conley told Larsen. "I think that's allowed me to get into a really, really good rhythm and basically do what I'm here to do. And that's to get JC (Clarkson) going, get Bojan going, make sure Don's going, be aggressive when I can and get big fella the ball."
Couple Conley's offensive juice with his typically strong work at the other end of the floor – particularly his ability to pressure the ball without fouling, and his rotations any time an opponent gets Utah's switch-averse defense moving – and the Jazz have outscored opponents by 17.7 points per 100 possessions with him on the floor.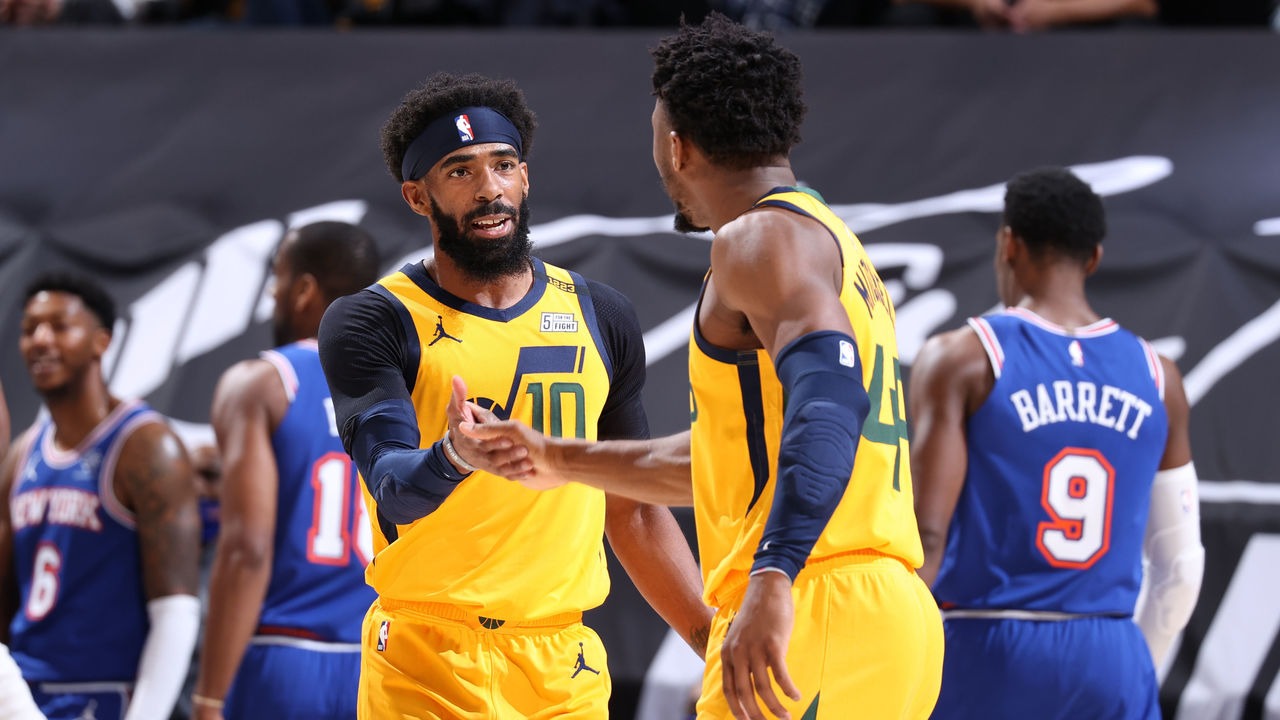 For good teams that have long struggled to get over the proverbial hump, there's a natural inclination to project encouraging trends forward and discern what they portend in the big picture. In this case, that means speculating about whether this year's Jazz are good enough to overcome the playoff roadblocks that have tripped them up in the recent past. Were they just a good Mike Conley away from legitimate title contention?
There are still holes to poke in their case. Concerns persist about the Jazz's lack of individual scoring ability, which has sunk them against high-level switching defenses. Their flowing sets get jammed up, leaving it to Mitchell to bail them out.
Even this version of Conley may not help enough in that regard. He's fast, but also methodical. His skill has always been more in probing for soft spots than in dusting guys off the bounce, and that's especially true now that age has chipped away at the explosiveness of his first step. His free-throw attempt rate is a career low, and he's getting to the rim at an 11th-percentile rate for a point guard, according to Cleaning the Glass.
His isolation work against switches this season has almost exclusively produced step-back jumpers, and while he creates a decent amount of separation, you'd like to see more downhill attacking when he generates mismatches against slower-footed bigs:
Last postseason, an in-form Conley still didn't prevent Mitchell from using a league-high 37.5% of Utah's possessions when he was on the floor, handling the ball for an average of 7.8 minutes per game, and running out of fuel in the team's Game 7 loss to the Nuggets.
Though Mitchell has shaved about a half-second off his average touch time and is throwing about four additional passes per game, his usage rate is identical to last season's, suggesting the Jazz might still be overreliant on his self-creation when the chips are down. There's also the small matter of Utah's dearth of big wing defenders, and the general top-end talent deficit they'd face in a series against other West contenders.
But this early in the season, especially in a season this strange and unpredictable, extrapolation feels like a futile exercise. The Jazz will have their chance to answer those questions in due time. For now, let's appreciate the simple pleasure of watching a beloved player rediscover his basketball mojo, and in the process help an aspirational team unearth a better version of itself.