We're into the second round of the playoffs after the first round went chalk. In the Eastern Conference, that set up a pair of tantalizing matchups, both of which have unfortunately been marred by major injuries.
Here's the biggest factor that will decide each East semifinal, with a focus on two of the league's best defenses:
(1) Heat vs. (4) 76ers
Can the Sixers score enough to buy Embiid some time?
Well, this sucks.
This series had the makings of a barnburner … until it was revealed Joel Embiid suffered an orbital bone fracture and a mild concussion in the dying minutes of the Sixers' first-round win over the Raptors. With Embiid likely to miss a chunk of the series, if not the entire thing, a Philly team that was already facing a tall task against the top-seeded Heat is now staring at a climb up Everest. Hell, the Sixers have been undone in the past by their inability to survive the 5-10 minutes per game Embiid had to rest. Now the whole plane's made out of Embiid-less minutes!
In a best-case scenario, Embiid might find a way to return mid-series in a face mask. But for a theoretical return to be at all worthwhile, the Sixers will need to find a way to steal at least a game without their best offensive and defensive player. So, how are they going to do that?
Their defense was leaky even when Embiid was healthy, so it's hard to imagine them clamping down with some combination of Paul Reed, DeAndre Jordan, and Paul Millsap sopping up his minutes. (Some small-ball stints with Georges Niang at the five are probably in the cards.) Philly allowed 117.2 points per 100 possessions with Embiid on the bench in the first round – compared to 106.5 with him on court – and that was against a pretty janky Raptors offense. Suddenly, a series in which Bam Adebayo figured to be neutralized as a scorer looks like one in which he can feast. Jimmy Butler was always going to relentlessly hunt mismatches against this defense, but now he'll encounter minimal resistance when he barrels to the rim.
All of which is to say, the Sixers have a better chance of fighting fire with fire and simply outscoring the Heat. It's still not a good chance, but they can at least be mildly encouraged by the 119.2 offensive rating they put up during the non-Embiid minutes against the Raptors. This Miami defense is a different beast, but it's similar to Toronto's in that it's help-heavy, interior-focused, and prone to conceding a ton of threes. Can the Sixers sustain their 41% 3-point clip from the first round?
They won't be able to generate the same quality of outside looks without Embiid's low-post gravity, but they'll still get their share of wing threes by kicking out against the Heat's aggressive nail help and passing around their zone. (Miami should play zone a lot without Embiid there to break it from the middle.) Of course, it will be almost entirely dependent on James Harden and Tyrese Maxey to pressure the defense enough to create those opportunities.
For all their brawn and brains, the Heat don't quite have the speed to keep a roadrunner like Maxey out of transition or out of the paint. They excel at rim suppression but aren't actually a great rim-protecting team, and Maxey is the 76er most capable of bypassing the former to exploit the latter. He averaged 21.3 points on 68% true shooting in four regular-season games against Miami, and Harden – who has really amplified Maxey's off-the-catch game – didn't play in any of them.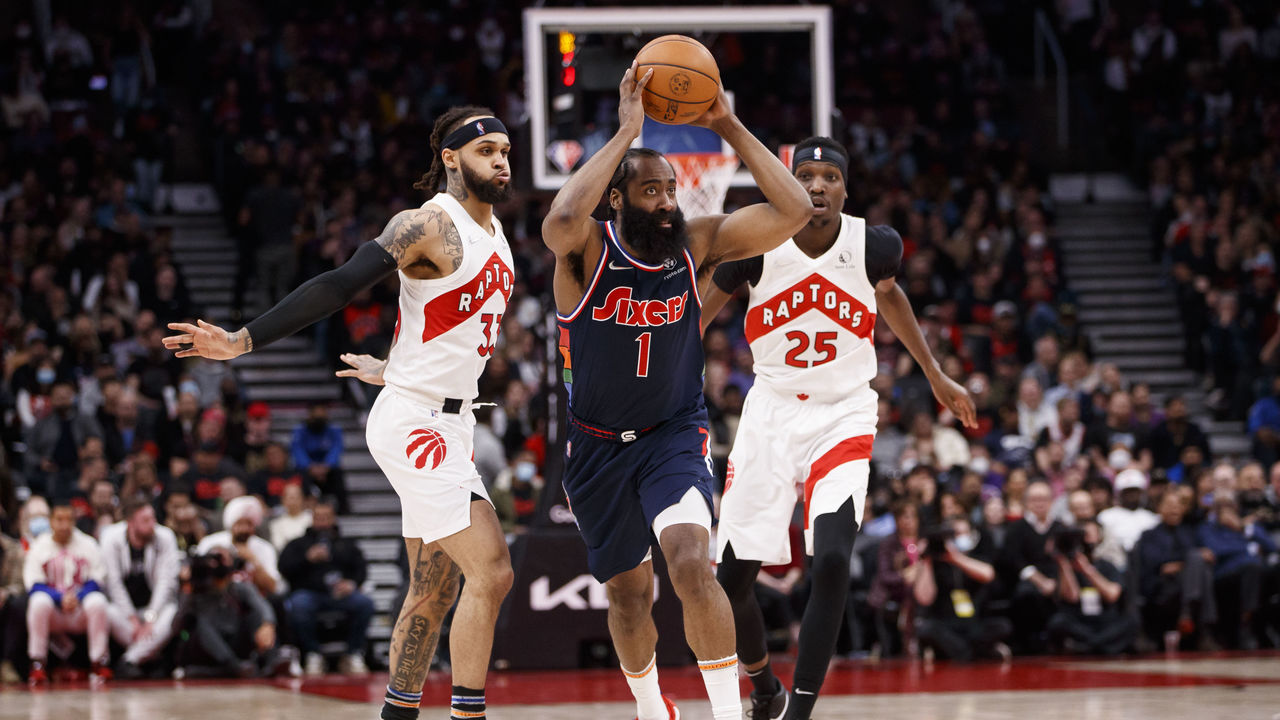 The Sixers need a full series of the Harden they got in Game 6 last round over the one who shot 37% from 2-point range in the five games prior. When the Raptors started switching more frequently and stopped shading excessive help Harden's way at the top of the floor, they shrunk his playmaking avenues and forced him to try and beat their long-armed, fleet-footed defenders one-on-one. Miami, one of the most frequent and effective switching teams in the league, will surely look to follow that blueprint. The Heat allowed just 0.78 points per isolation in the first round against Trae Young's Hawks.
Adebayo, with his ability to stymie ball-handlers on the perimeter, is the backbone of their scheme. And with Embiid's absence removing the option to attack the back end of a switch (none of his replacements can do that), the Sixers might not even bother running pick-and-roll with their bigs. I'd anticipate a lot more small-small screening action with Harden and Maxey, with some Tobias Harris mismatch-hunting sprinkled in.
Harden was masterful in that series-clinching win against the Raptors in large part because he exploited the Gary Trent Jr. matchup, and Philly – knowing Toronto would concede the switch – started spamming ball screens for Harden with Trent's man. Though it looked ugly at times, Harden wound up averaging a respectable point per possession in isolation for the series, mainly by attacking the Raptors' smalls. Miami has some candidates to get that treatment, though replacing Duncan Robinson with Max Strus in the starting lineup has reduced the exposure of an obvious weakness.
The big pressure point is Tyler Herro, and it will be interesting to see how the Heat try to protect him when the Sixers seek him out. Expect to see plenty of hedges, switches that immediately turn into blitzes, and the aforementioned zone. Also, just because Adebayo isn't directly involved in an action, doesn't mean he won't blow it up as a roving helper. That's where having a spacer like Niang at the five might help.
Any way you slice it, though, the Sixers are drawing dead without Embiid. The best they can hope to do is buy enough time to get him back while there's still money in the pot.
Prediction: Heat in 5
(2) Celtics vs. (3) Bucks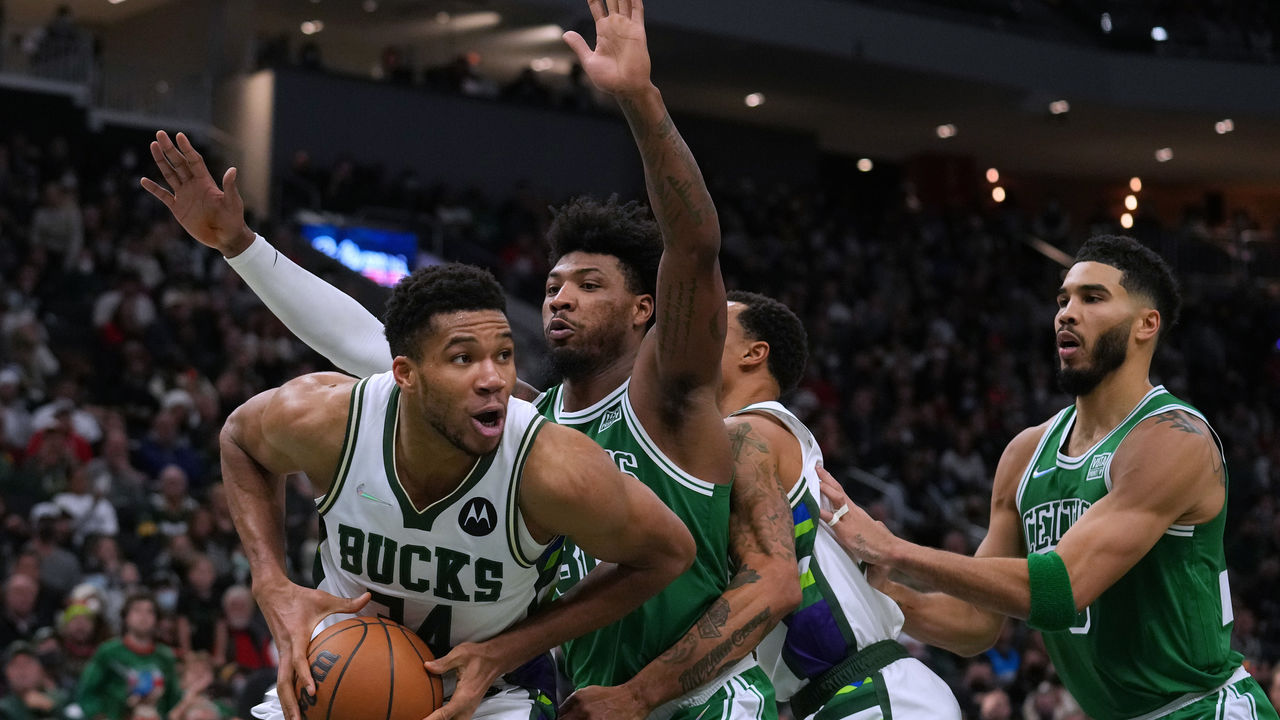 How will the Celtics defend Giannis?
Boston is coming off a first-round sweep of the preseason title favorites that featured one of the most impressive star-stopping defensive performances in recent memory. With blanketing on-ball coverage, hard hedges, jump switches, aggressive digs, off-ball bumps, top-locks, post doubles, and every other instrument they could get their hands on, the Celtics patched together a custom straitjacket to fit Kevin Durant.
Trying to slow down Giannis Antetokounmpo is, of course, a fundamentally different challenge. It takes a village in both cases, but where stopping Durant means disrupting his jump-shooting tendencies, guarding Giannis means withstanding his blunt-force downhill attacks and doing your utmost to keep him away from the rim. Unfortunately for the Bucks, the Celtics are as well-equipped to do the latter as they are the former. And the absence of Khris Middleton is only going to open up more help-layered schematic possibilities and make Giannis' life that much more difficult.
The Celtics have a few options to choose from when it comes to picking a primary Giannis defender. Al Horford's been their default this season and in years past, so he'll likely get the first crack at it, but Robert Williams is an intriguing option and the only Celtic who can approximate Giannis' combination of size and athleticism. Importantly, no matter which of those guys accepts the primary assignment and withstands the initial hit, the other will be waiting on the baseline to provide a second layer of insulation, whether that means stepping up on Giannis' drives, meeting him at the summit, or double-teaming him when he turns his back to the basket.
The Bucks ostensibly have the benefit of stretch bigs to pull those guys away from the rim, but Brook Lopez fills that role in name only. Playoff defenses rarely treat him with much respect, and you can bet the Celtics will gladly let him bomb away from deep if it means using his defender to blockade Giannis' path to pay dirt. Bobby Portis is enough of a 3-point threat to tilt the math, but the Celtics will likely just guard him with a wing, especially if the Bucks continue to start him alongside Giannis and Lopez.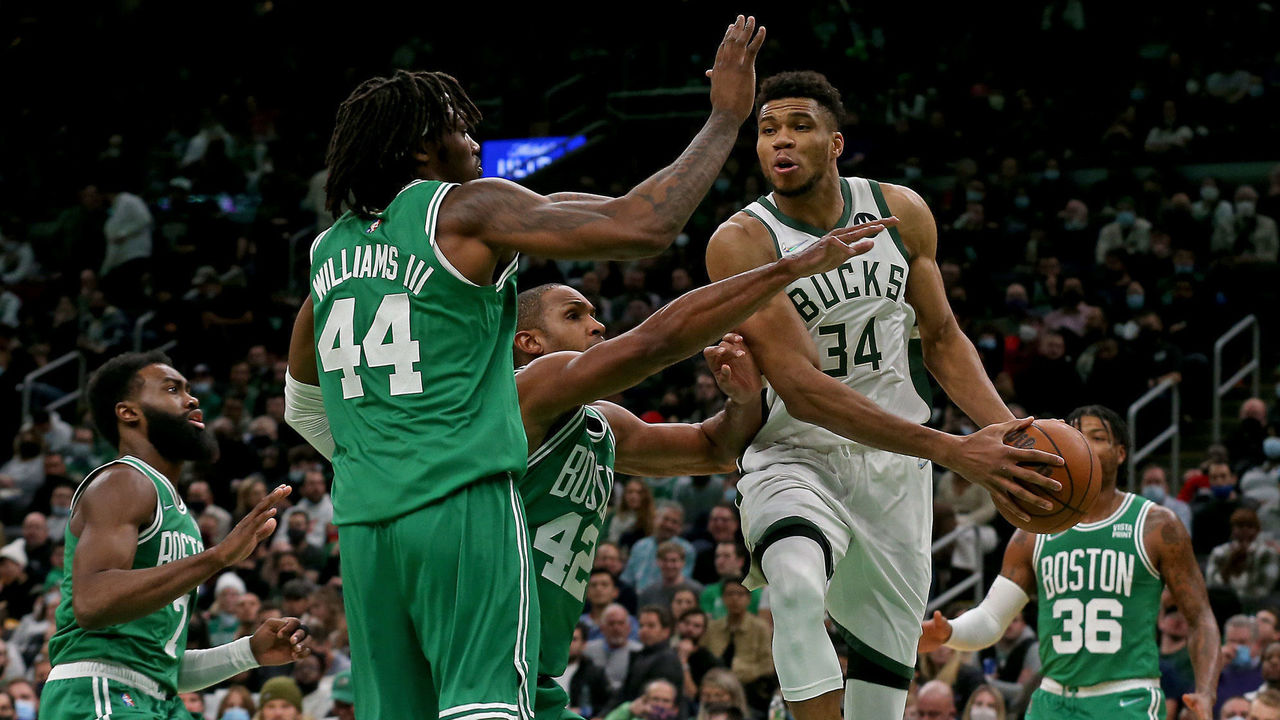 Any of Grant Williams, Jayson Tatum, and Jaylen Brown can handle the Giannis assignment in a pinch, though the Celtics will avoid putting Tatum in that spot for fear of wearing him out and tagging him with fouls. Boston will even switch its smaller guards onto Giannis, whether he's setting a ball screen or running an inverted action with a shooter like Pat Connaugton or Grayson Allen screening for him. If Giannis rolls into the switch, the Celtics will look to scram the mismatch out on the back side. If he's handling at the top of the floor, Marcus Smart and Derrick White can hang tough physically while disrupting his dribble long enough for help to arrive.
And that's the thing, there's always going to be help. When Giannis tries to drive from the top, someone will meet him at the nail; if he tries to work out of the post, someone will dig down from the strong side or blindside him from the baseline. Not having Middleton around to initiate half-court possessions is going to mean a whole lot of ball-handling reps for the two-time MVP, and while that's not a bad thing on its face, it tilts the harmonious on-ball/off-ball balance he struck en route to the title last year. The Bucks will still use him as a screener for Jrue Holiday in pick-and-roll, but Holiday isn't the pull-up threat Middleton is. Boston may be fine playing drop as a result, focusing on corralling Giannis' roll and living with whatever Holiday can do with Smart hounding him from behind.
That doesn't mean the Celtics are going to do to Giannis what they did to Durant. He's still a freight train who's going to shake loose in transition and find his way to the rim and the free-throw line plenty. Even without Middleton, the Bucks have plenty of shooters who can get hot, capitalize on the attention Giannis draws, and open the floor up for him. The Bucks are also going to have way more success guarding Boston than the Nets did, which gives them more margin for error on offense.
It won't be a cakewalk, but the Celtics' defense is special, and it should carry them past the defending champs.
Prediction: Celtics in 6