The prospect field is finally set with Monday's deadline to withdraw from the NBA draft in the rearview mirror.
Since the lottery order became official, executives have been able to do their homework both at the combine and through scheduled workouts.
Here's how theScore sees the first round breaking down ahead of next week's draft.
1. Orlando Magic – Jabari Smith, F, Auburn
Orlando may be contemplating Chet Holmgren, Jalen Suggs' former teammate, but choosing Smith makes the most sense for the Magic.
Smith's high floor as an oversized wing with a proven shooting touch is hard to pass on for a team that's looking to move past its lengthy rebuild. He may not be as unique of a prospect as Holmgren, but Smith could also have the highest ceiling in the class if he takes on an even bigger offensive role in the NBA.
2. Oklahoma City Thunder – Chet Holmgren F/C, Gonzaga
The Thunder will be just fine taking another potential franchise-changing player. Holmgren fills an immediate need for the Thunder at the five, which was a revolving door for them last season. The All-WCC first-team selection was one of college basketball's best defenders last season, using his 7-foot-6 wingspan to protect the rim and contest shots on the perimeter.
Holmgren also possesses guard-like skills. He can carry the ball coast-to-coast, set up teammates out of the high post, and shoot efficiently from downtown. The former No. 1 recruit's skinny frame is the biggest concern, but he should get stronger under NBA strength and conditioning programs.
3. Houston Rockets – Paolo Banchero, F, Duke
Banchero is perhaps this draft's most polished offensive prospect. The Duke forward can handle the rock, power through the paint with his 250-pound frame, and he has an assortment of back-to-the-basket moves. He's a great passer for his size, which should add another dimension to the Rockets' offense.
Banchero's struggles came on the opposite end, where his effort came and went. However, he proved to be an effective help defender at times, using his length to alter shots around the basket.
4. Sacramento Kings – Keegan Murray, F, Iowa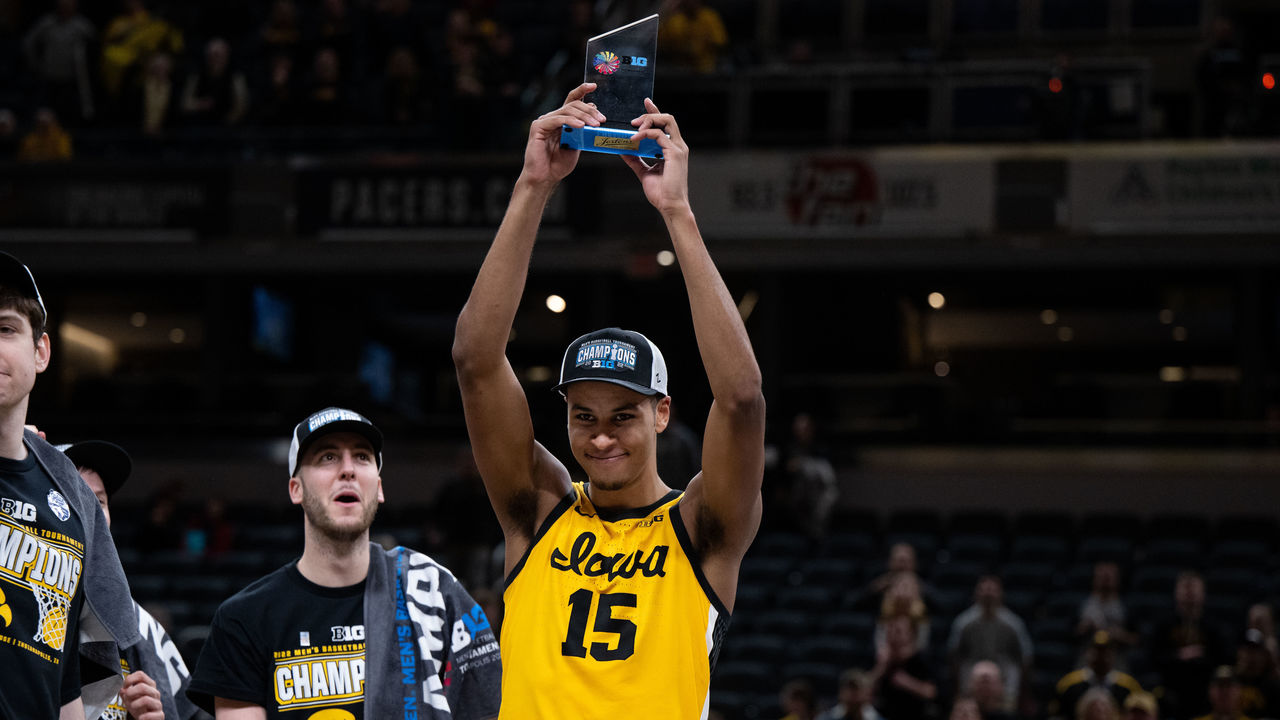 While many see Jaden Ivey as the draft's fourth-best prospect, Sacramento may want to look elsewhere after trading Tyrese Haliburton last season to prioritize guards De'Aaron Fox and Davion Mitchell.
Murray would be a great fit for the Kings. He's a mature, all-around player who fits seamlessly as both an off- and on-ball weapon, which would allow Sacramento to play him in a variety of roles. In the long term, he could be an excellent replacement for Harrison Barnes.
5. Detroit Pistons – Jaden Ivey, G, Purdue
Killian Hayes' presence shouldn't stop Detroit from taking another guard. Ivey's got real star potential, and he brings some size and athleticism to the Pistons' backcourt. The Purdue standout's explosive first step and leaping ability allowed him to get to the rim at will collegiately.
His shot-creating prowess was also on display throughout the NCAA campaign, along with a much-improved 3-point stroke. While Ivey's playmaking skills are a work in progress, he'll have time to improve with Cade Cunningham running the point.
6. Indiana Pacers – Dyson Daniels, G, G League Ignite
Daniels has been one of the biggest risers throughout the draft process. Teams ran through his G League film and saw exciting flashes as a passer and on-ball defender. His top-tier speed was confirmed after blowing away the competition in the combine's shuttle run drill.
Other than a consistent shooting stroke, Daniels has everything a team looks for when selecting a lottery-level wing prospect. The Pacers will have the chance to be patient with Daniels' development as they push through a rebuild, and they have enough shooting to give him important minutes from Day 1.
7. Portland Trail Blazers – Shaedon Sharpe, G/F, Kentucky
Sharpe is this draft's biggest mystery. The Canadian wing became the consensus No. 1 high school recruit last summer after a strong showing on the Nike EYBL circuit. However, he never saw the floor after enrolling with Kentucky in January and bolted for the NBA following the 2021-22 campaign.
Although there's little tape available on Sharpe, it's hard to ignore the potential he teased in his small sample of play. Sharpe's physical profile, shot-creating skills, and explosive athleticism are enough to warrant a high draft pick.
8. New Orleans Pelicans (via LAL) – Bennedict Mathurin, G, Arizona
The Pelicans are looking to hit another home run after reaping the benefits of some strong rookie play last season. Mathurin showed off a proven outside shooting stroke and high-level athleticism through two collegiate seasons, winning Pac-12 Player of the Year last campaign.
The Canadian jumped from a role player to a star at Arizona. If his off-the-bounce scoring and facilitating continue on their upward trajectory, Mathurin could follow a similar path to a player like Paul George.
9. San Antonio Spurs – Jalen Duren, C, Memphis
With Jakob Poeltl entering a contract year, Duren could be the Spurs' starting center for years to come. He's the youngest player in this class, but he already boasts an NBA-ready body. Duren's explosive leaping ability stood out last season as he swatted more than two shots per game and seemingly caught any lob with his large catch radius. The teenager also flashed some passing skills and the ability to defend in space.
10. Washington Wizards – Johnny Davis, G, Wisconsin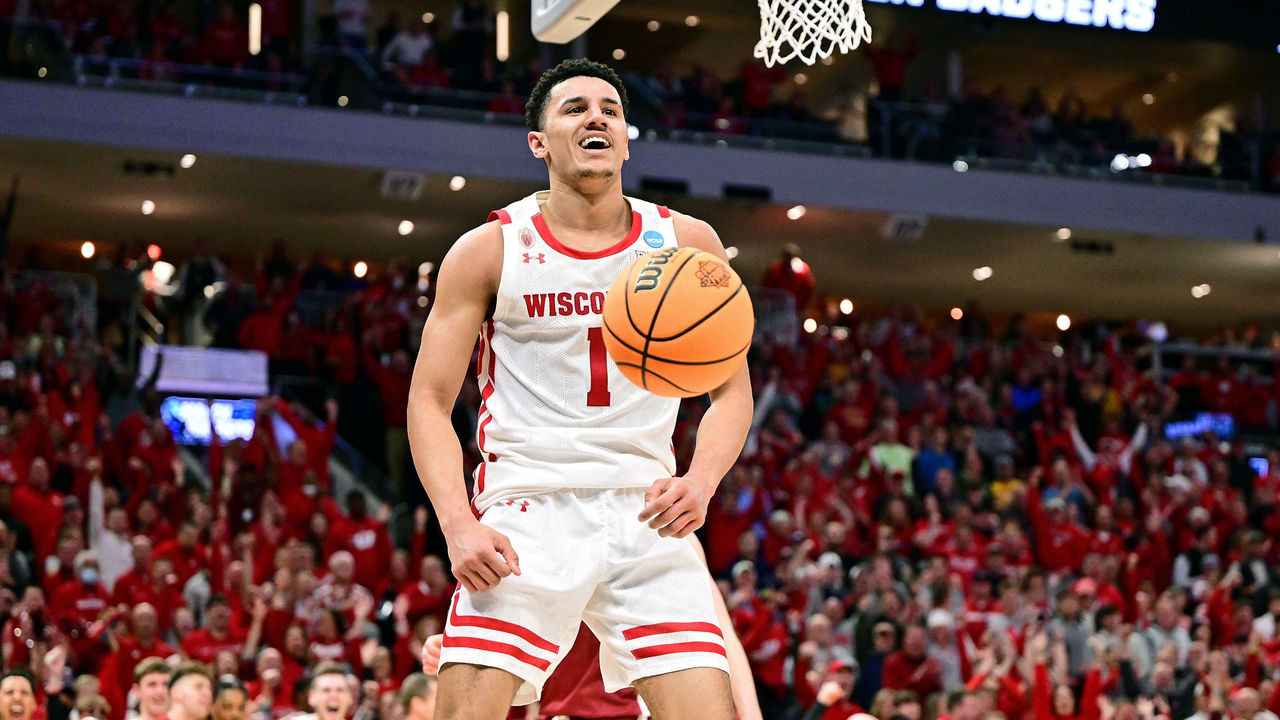 The Wizards don't have many guards locked up for next season. They'd be well-served to choose someone with as good a scoring repertoire as Davis. The first-team All-American uses power and strength to finish around the basket and has shown flashes as a shooter.
While Davis' shorter stature and lack of elite burst may not allow him to reach the ceiling some of his counterparts can, his offensive game is enough for him to carve out a lengthy NBA career as a professional scorer at the two.
11. New York Knicks – AJ Griffin, F, Duke
Griffin's biggest asset is his shooting. He made nearly 45% of his triples last season and averaged 1.36 points on catch-and-shoot jumpers, which ranked in the 97th percentile. There's no question Griffin can space the floor. He just hasn't consistently proven to be more than a standstill shooter.
However, Griffin has all the physical tools to be a lockdown defender. The Duke standout's 222-pound frame and 7-foot wingspan are what teams covet in a wing, and having a defensive-minded coach like Tom Thibodeau should keep him engaged every possession.
12. Oklahoma City Thunder (via LAC) – Ousmane Dieng, F, New Zealand Breakers
As the Thunder continue to pile up intriguing young talent, Dieng checks all of their boxes. One of the youngest players in the draft, the 6-foot-10 forward is athletic and billed as a good shooter despite hitting just 27% of his 3-pointers last season in the NBL.
If the jumper comes around as projected, Dieng could be an ideal pick-and-pop big man with the speed and agility to hold his own against switches defensively. However, he possesses some risk given the fact he hasn't yet done that against high-level competition.
13. Charlotte Hornets – Ochai Agbaji, G/F, Kansas
Agbaji went from a lightly recruited prospect to the centerpiece of a national championship team during his four years at Kansas. The Jayhawks star should immediately fill a 3-and-D role at the next level. He shot over 40% from deep as a senior and used his 6-foot-10 wingspan to guard multiple positions. There's a chance Agbaji can become more than a role player as he began to expand his offensive game last season. He made a stronger effort to seek his own shot and had more opportunities to create off the dribble.
14. Cleveland Cavaliers – Malaki Branham, G/F, Ohio State
Loaded with guards and big men, Cleveland would be best served to look toward the lengthy list of wings available near the end of the lottery. Branham burst onto the scene as a freshman at Ohio State, showcasing an efficient offensive game. In the eight contests where he topped 20 points, Branham shot at least 52% from the field in each one. Plus, he played at LeBron James' high school.
15. Charlotte Hornets (via NOP) – Mark Williams, C, Duke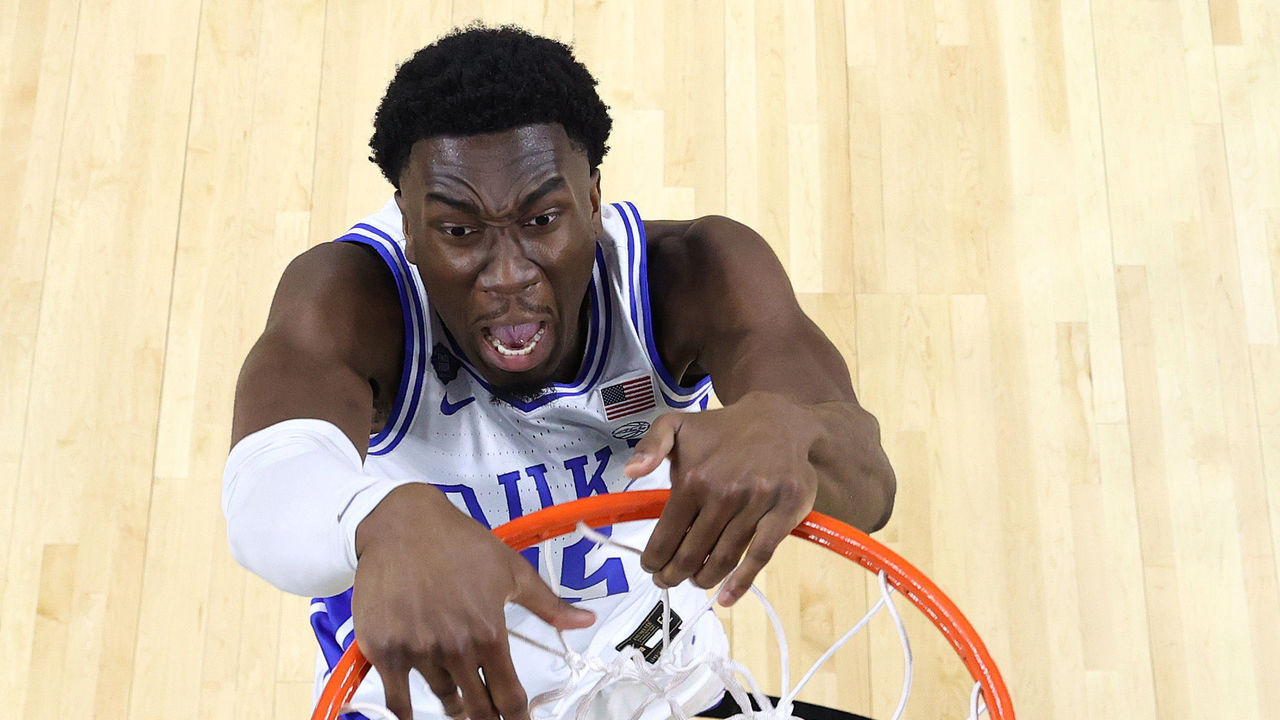 Williams would finally fill the Hornets' gaping hole at the five, as well as their need for more defensive-minded players. The towering center was a rim-protecting force last season, registering the fifth-most blocks in the NCAA and routinely altering shots with his 7-foot-6 wingspan. Williams also fits nicely for Charlotte on the opposite end, as he'd provide LaMelo Ball with another huge lob target in the pick-and-roll.
16. Atlanta Hawks – Jeremy Sochan, F, Baylor
Sochan is the classic wing prospect that has all the athletic and physical tools to become an NBA starter, but he lacks shooting touch. The Polish national shot below 30% from 3-point range and 60% from the line at Baylor last season, but he flashed defensive and playmaking skills that make him a surefire first-round pick. Sochan could thrive as a role player next to the Hawks' plethora of scoring options.
17. Houston Rockets (via BKN) – Nikola Jovic, F, Mega Basket
Houston can afford to roll the dice on Jovic. The 18-year-old forward is an ideal fit for the modern NBA with his ability to pass, shoot, and handle the rock. However, Jovic was an inconsistent defender and will need to hit the weight room over the next few years. Still, he's got the foundation to be an impact player down the line with proper development.
18. Chicago Bulls – TyTy Washington, G, Kentucky
Much like former Kentucky guard Tyrese Maxey, Washington couldn't showcase his full skill set playing beside other ball-dominant playmakers. Instead, he was relegated to an off-ball role. After lighting it up in high school, there's a chance Washington could thrive in the spaced-out NBA in a bench role from Day 1 before eventually climbing the ranks like Maxey.
19. Minnesota Timberwolves – Tari Eason, F, LSU
Eason had a breakout sophomore season at LSU, averaging 16.9 points, 6.6 boards, 1.9 steals, and 1.1 blocks. He was an All-SEC first-team selection despite coming off the bench for most of the 2021-22 campaign. The reigning SEC Sixth Man of the Year – who often functioned as the Tigers' small-ball center in their switch-heavy scheme – would provide the T-Wolves with another rangy forward capable of guarding a variety of players.
20. San Antonio Spurs (via TOR) – Jalen Williams, G, Santa Clara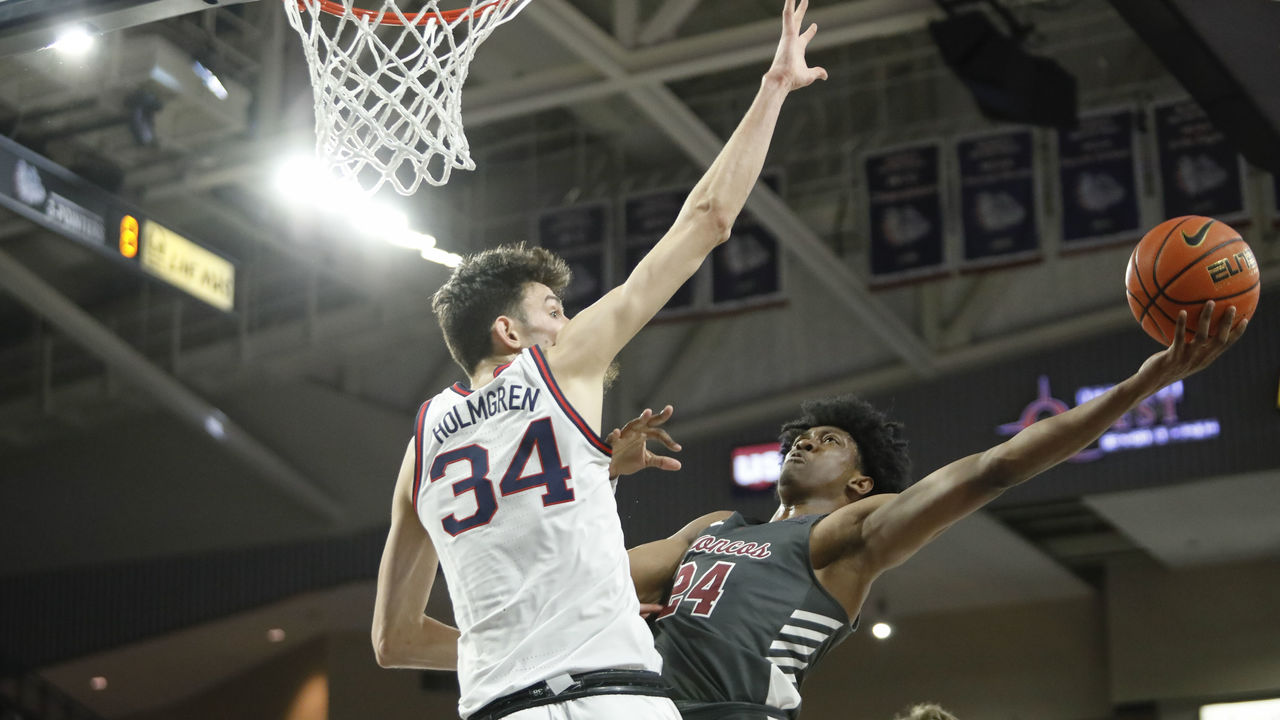 After a quiet three seasons at mid-major Santa Clara, Williams took the draft world by storm at the combine. He has ideal size for a wing, a hyper-efficient offensive game from all levels, and an intriguing floor game that he developed last year. Williams should be able to stick immediately, and he could succeed as a rookie as he begins to acclimate to the league's athleticism.
21. Denver Nuggets – EJ Liddell, F, Ohio State
Liddell's decision to return to college for his junior year paid dividends. The Buckeyes star improved significantly as a 3-point shooter and shot-blocker, connecting on 37.4% of his attempts from deep and posting a Big Ten-leading 2.6 swats per contest. He also demonstrated the ability to switch on the perimeter, which could be attractive for a Nuggets squad in need of versatile defenders.
22. Memphis Grizzlies (via UTA) – Blake Wesley, G, Notre Dame
It's hard to get a clear sense of where Wesley is as a player following his meteoric rise from lower-level recruit to an All-ACC team appearance as a freshman. His blend of upper-tier athletic ability and a strong floor game says one thing; his 30% mark from beyond the arc, 67% clip from the free-throw line, and diminutive 6-foot-4, 187-pound frame as a 2-guard say another.
23. Philadelphia 76ers – Christian Braun, F, Kansas
Braun shot a career 37.5% from 3-point range over his three seasons at Kansas as a tremendous complementary piece to several star teammates. While many prospects have to adjust to new roles in the league, Braun's experience as a role player for a top-tier program will help with his transition, giving him one of the safer floors among those selected in the 20s. He could help the 76ers' spacing from Day 1.
24. Milwaukee Bucks – MarJon Beauchamp, G/F, G League Ignite
Milwaukee could use some more wing depth, especially if Pat Connaughton opts out and signs elsewhere this summer. Beauchamp doesn't need the ball in his hands to make an impact. He runs the floor in transition, makes timely cuts, and is always crashing the glass. While the 21-year-old's jump shot needs some refinement, his smothering on-ball defense and active hands should earn him immediate minutes.
25. San Antonio Spurs (via BOS) – Jake LaRavia, F, Wake Forest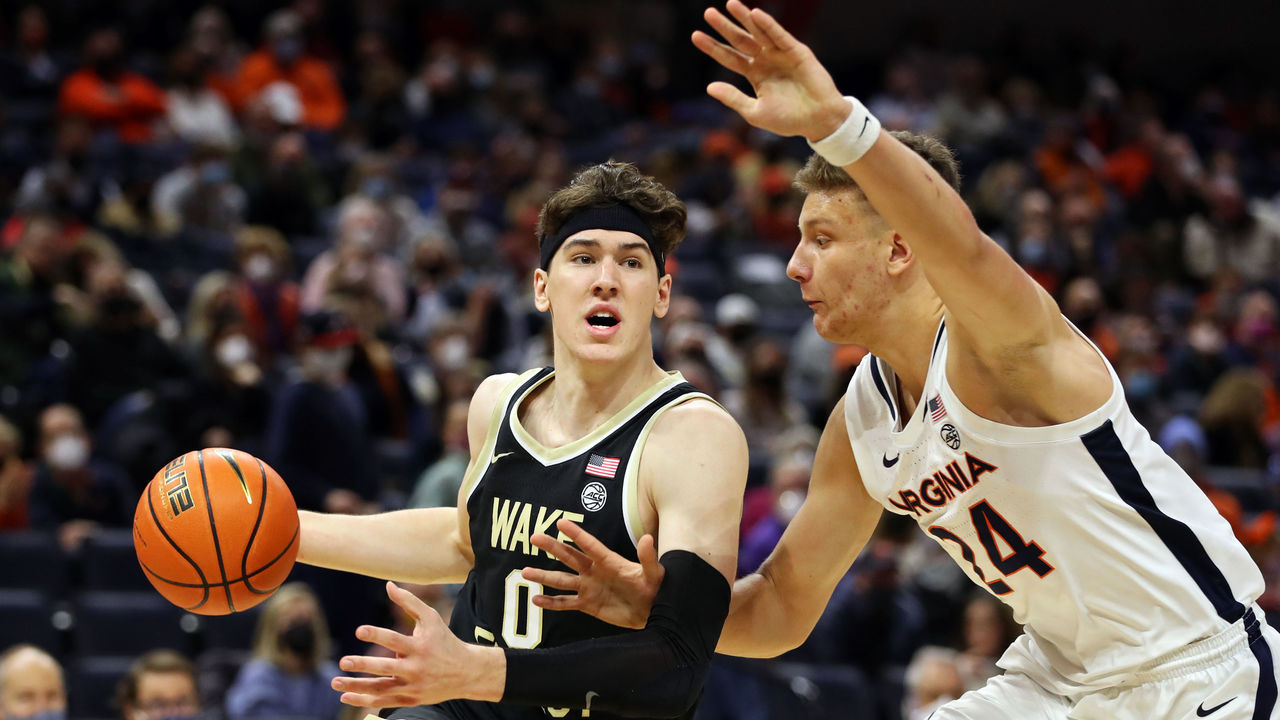 For a Spurs organization that's long been the NBA's poster child for fundamentals, LaRavia would fit in perfectly. Though he put up admirable athletic numbers at the combine, explosiveness and isolation scoring will never be LaRavia's strengths. Instead, his shooting efficiency and decision-making that helped him turn around a struggling Wake Forest program will allow him to carve out a role in the league.
26. Dallas Mavericks – Walker Kessler, C, Auburn
It's clear that Dallas needs to address the five. Dwight Powell was virtually a non-factor despite starting every postseason contest, while Maxi Kleber was the Mavericks' lone rim-protecting presence. Kessler averaged nearly five blocks last season and should mesh with Luka Doncic as a reliable finisher in the pick-and-roll. The 7-footer also flashed floor-spacing potential during his lone campaign at Auburn.
27. Miami Heat – Kennedy Chandler, G, Tennessee
With an aging Kyle Lowry struggling in the playoffs, and few other point guard options on the roster, the Heat could look to plug that spot with one of the best true one-guards in the draft. There are real worries about Chandler's NBA potential due to his 6-foot frame and inconsistent shooting. However, if there's any organization that can get the best out of a talent like him, it's the Heat.
28. Golden State Warriors – Dalen Terry, G/F, Arizona
Regardless of how The Finals play out, they're proof that Golden State needs more athleticism. Few players at this stage of the draft fit the bill more than Terry. The Arizona wing provides size, versatility, and sound decision-making. He also competes hard defensively, using his length to contest shots and deflect passes.
29. Memphis Grizzlies – Trevor Keels, G, Duke
Keels has plenty of upside as one of the youngest players in this year's class. The 18-year-old is a big-bodied guard who plays with toughness on both ends. He can orchestrate the pick-and-roll and is tough to stop when attacking downhill. Keels would provide some insurance in the event backup guard Tyus Jones leaves in free agency.
30. Denver Nuggets (via OKC) – Patrick Baldwin Jr., F, Milwaukee
After having one of the worst statistical collegiate seasons among high-level recruits despite playing at low-major Milwaukee, Baldwin doubled down by easily testing the worst athletically among all players at the combine. Still, some team is going to give the former top-10 recruit a shot. Denver could afford to take that risk after striking gold with another player with a shaky NBA path in Michael Porter Jr.