The ping-pong balls went in the Orlando Magic's favor as the club won the right to select first in this year's NBA draft.
Orlando's decision isn't as clear-cut as last season when Cade Cunningham was the consensus No. 1 prospect.
Here's how theScore sees the first round breaking down now that the lottery order is official.
1. Orlando Magic – Chet Holmgren, F/C Gonzaga
Holmgren is perhaps the most unique NBA prospect since Zion Williamson. The 7-footer can instantly turn defense into offense with his superb ball-handling skills, and he's an outside threat in the pick-and-pop or as the trailer in transition. When Holmgren's situated atop the key, he's got the playmaking chops to find teammates on high-low feeds.
At first glance, Holmgren doesn't look like the most intimidating defender, but he plays with an edge that supersedes his physical appearance. The 20-year-old was among the NCAA's top rim-protectors, averaging 3.7 blocks and alerting plenty of more looks. He was just as impressive defending in space, using his lateral quickness and length to give players fits.
Holmgren also grew up playing alongside Magic guard Jalen Suggs and could usher in a new era for the franchise with his childhood friend.
2. Oklahoma City Thunder – Jabari Smith, F, Auburn
While a poor finish at Auburn didn't help cement Smith as the clear-cut top prospect in the draft, his consistent flashes on both ends should give plenty of scouts excitement.
Smith fits the mold of a modern NBA big man – he's slender and fluid athletically, an efficient long-range shooter, and has the requisite size to defend the rim. He's also one of the youngest players in the class after recently turning 19. With proper development, Smith could turn into an Anthony Davis-type force – without quite the same defensive impact.
3. Houston Rockets – Paolo Banchero, F, Duke
Banchero arguably came into the college basketball season as the draft's top prospect, and although he performed admirably for a solid Duke squad, many people question how much more growth he has left. His lack of elite quickness may hamper his ability to play multiple positions in a continuously smaller version of the NBA.
But outside of a couple concerns, it's hard to block out Banchero's elite productivity – his 17.2 points, 7.8 rebounds, and 3.2 assists as a freshman have only been matched by Ben Simmons and RJ Barrett in the last 15 years.
4. Sacramento Kings – Jaden Ivey, G, Purdue
Ivey's strong play with Team USA at last summer's FIBA U19 World Cup carried over into his sophomore year at Purdue. The Indiana native made huge strides as a lead guard, averaging 17.3 points, 4.9 boards, and 3.1 assists to go along with a 10% improvement in his 3-point shooting.
Few players electrified crowds more than Ivey. His blazing speed in transition, acrobatic finishes around the rim, and shot-making ability created must-watch basketball. The Boilermakers star often got to the charity stripe as well, using hesitations and an explosive first step to penetrate the paint.
5. Detroit Pistons – Shaedon Sharpe, G/F, Kentucky
There have been few greater unknowns in recent draft memory than the case of Canadian-born Sharpe. The only tape scouts have are from his prep school and AAU games after he enrolled at Kentucky but declared for the draft without ever playing a game.
Ranked as the No. 1 high school prospect for the 2022 class before reclassifying, Sharpe's tantalizing combination of his 6-foot-6 size, ability to create his own shot, and top-level athleticism will be extremely tough for teams to pass on, despite his lack of experience. After watching electric 2-guards like Anthony Edwards and Devin Booker thrive in the playoffs, Sharpe could be next in line.
6. Indiana Pacers – Keegan Murray, F, Iowa
Murray took the baton from Luka Garza and ran with it. The 6-foot-8 forward starred in a leading role this past season, scoring an NCAA-best 822 points to help Iowa capture its first Big Ten Tournament crown since 2006. Murray is a natural fit in the modern NBA – he's a multi-positional defender, a floor-spacing big man, and can initiate the fast break.
Murray shot 62.1% on twos and just under 40% from downtown during the 2021-22 campaign. The 21-year-old is at his best when he's attacking downhill, but he can also do some damage in the post and as a cutter.
7. Portland Trail Blazers – Bennedict Mathurin, G/F, Arizona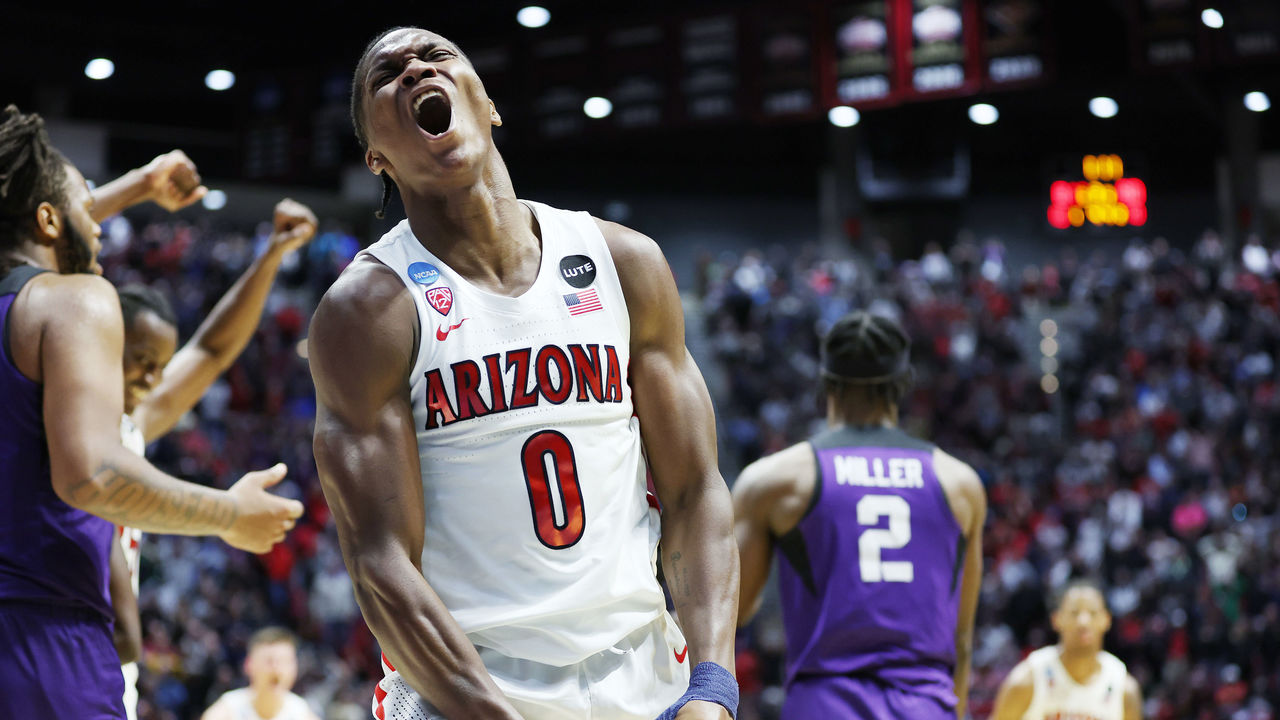 Mathurin took a huge step forward as a sophomore after being a potential first-rounder last season, leading Arizona to a No. 1 seed and making an All-America team. The Montreal native fits the modern NBA to a tee, slotting in as a prototypical 3-and-D wing with good size, deep shooting ability, and defensive potential. There are often flashes of future growth as a playmaker, which could make him a steal outside of the top five.
8. New Orleans Pelicans (via LAL) – Johnny Davis, G, Wisconsin
Davis' stunning rise to Wooden Award finalist propelled Wisconsin to a share of the Big Ten regular-season title. The 20-year-old averaged 19.9 points, 8.9 boards, two assists, and one steal in one of the toughest conferences. There's a lot to like about Davis' offensive game: He finishes through contact at the rim, backs down smaller defenders in the post, and gets to the free-throw line at will.
The sophomore guard carried the offensive load for the Badgers while showcasing a whole lot of grit and versatility on the opposite end. Still, there are questions about Davis' ceiling. His 30.6% clip from deep shouldn't be ignored, and a lack of athleticism may limit Davis' defensive impact at the next level.
9. San Antonio Spurs – Jeremy Sochan, F, Baylor
With Scottie Barnes' unlikely rise to Rookie of the Year, many teams will look to replicate his combination of on-ball offense, elite length, and positional versatility. Sochan doesn't quite have the passing chops that Barnes did in college, but his long frame mixed with his defensive productivity at Baylor make him a worthy investment as one of the younger players in the class. Like Barnes, however, Sochan really struggled to shoot in school, making under 30% of his threes and 60% of his free throws.
10. Washington Wizards – AJ Griffin, F, Duke
It took a bit of time for Griffin to settle in, as he was still recovering from a preseason knee injury. But once healthy, it quickly became apparent why the freshman was so highly touted. Griffin emerged as the Blue Devils' top outside threat, sinking 44.7% of his triples on just over four attempts per game.
The McDonald's All-American consistently burned defenders with step-back jumpers to his left, and he can score off the dribble when opposing players run him off the three-point line. There were times when Griffin became disengaged on the defensive end, but he's got the physical profile to be a real difference-maker.
11. New York Knicks – Jalen Duren, C, Memphis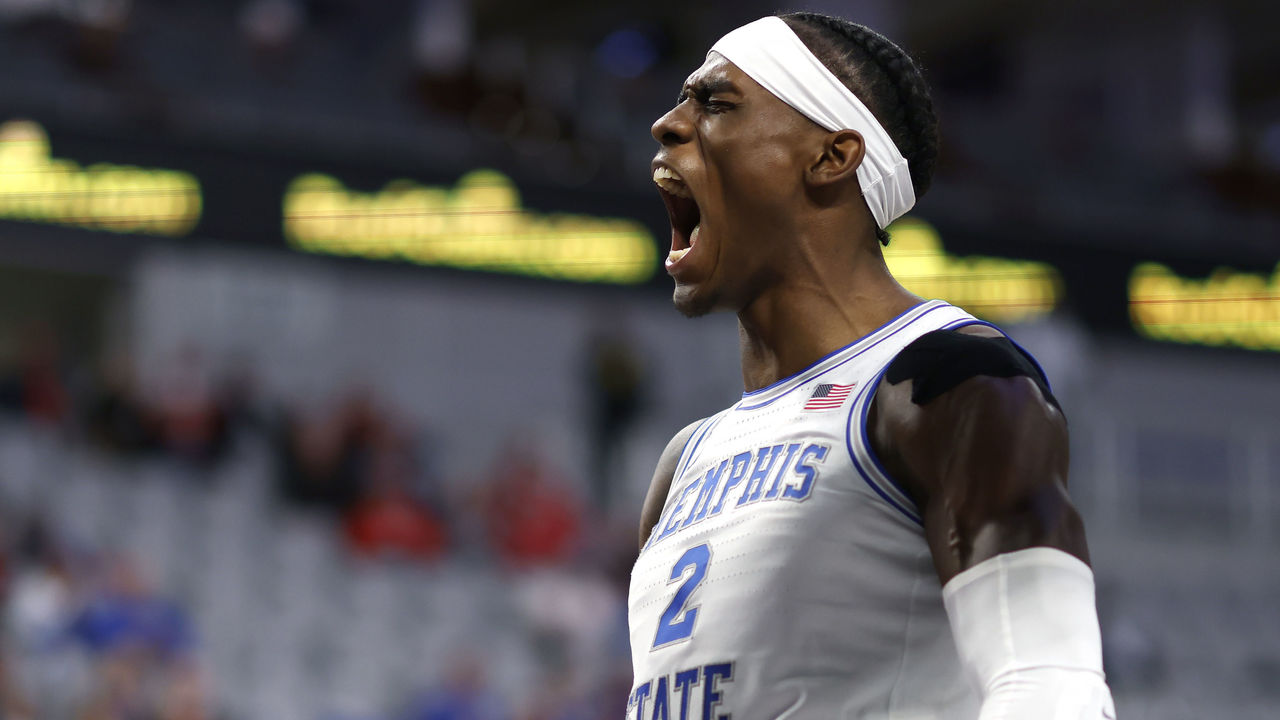 Duren's vertical jump, physical strength, and end-to-end speed at 6-foot-11 give off shades of a young Dwight Howard. However, his lack of a versatile offensive game currently prevents him from being more than a rim-running pick-and-roll threat. Still, there are only so many 18-year-olds with the standout athletic profile that Duren has. He could be a team's defensive anchor and highlight-reel star in a few years.
12. Oklahoma City Thunder (via LAC) – Mark Williams, C, Duke
Williams played a central role in Duke's Final Four run. He was one of college basketball's premier rim-protectors last season, posting nearly three blocks per game and an ACC-leading 11.4 block percentage en route to winning the conference's Defensive Player of the Year honors. Offensively, the 7-foot center was nearly automatic around the basket, making 78.7% of his attempts at the rim with a majority of that production coming from lobs.
13. Charlotte Hornets – Dyson Daniels, G, G League Ignite
Daniels filled up the stat sheet during his time with the G League Ignite, registering 12 points, 7.1 rebounds, 5.1 assists, and two steals per contest. The Aussie guard is an excellent passer with elite size at his position to see over the top of defenses in the half court. Daniels also demonstrated great defensive versatility, using his length to frustrate guards and wings. While Daniels shot only 25.5% from deep last season, he made 46.4% of his triples over the Ignite's final eight games.
14. Cleveland Cavaliers – Malaki Branham, G/F, Ohio State
Branham capped off his steady rise up draft boards with a strong performance in this year's NCAA Tournament. The Buckeyes wing averaged 18.5 points on 57.7% shooting against Loyola Chicago and Villanova, who both rank within KenPom's top 25 for adjusted defensive efficiency. Branham's shot-creating skills, lethal mid-range game, and improved 3-point shooting could push him into the lottery.
15. Charlotte Hornets (via NOP) – Ochai Agbaji, G/F, Kansas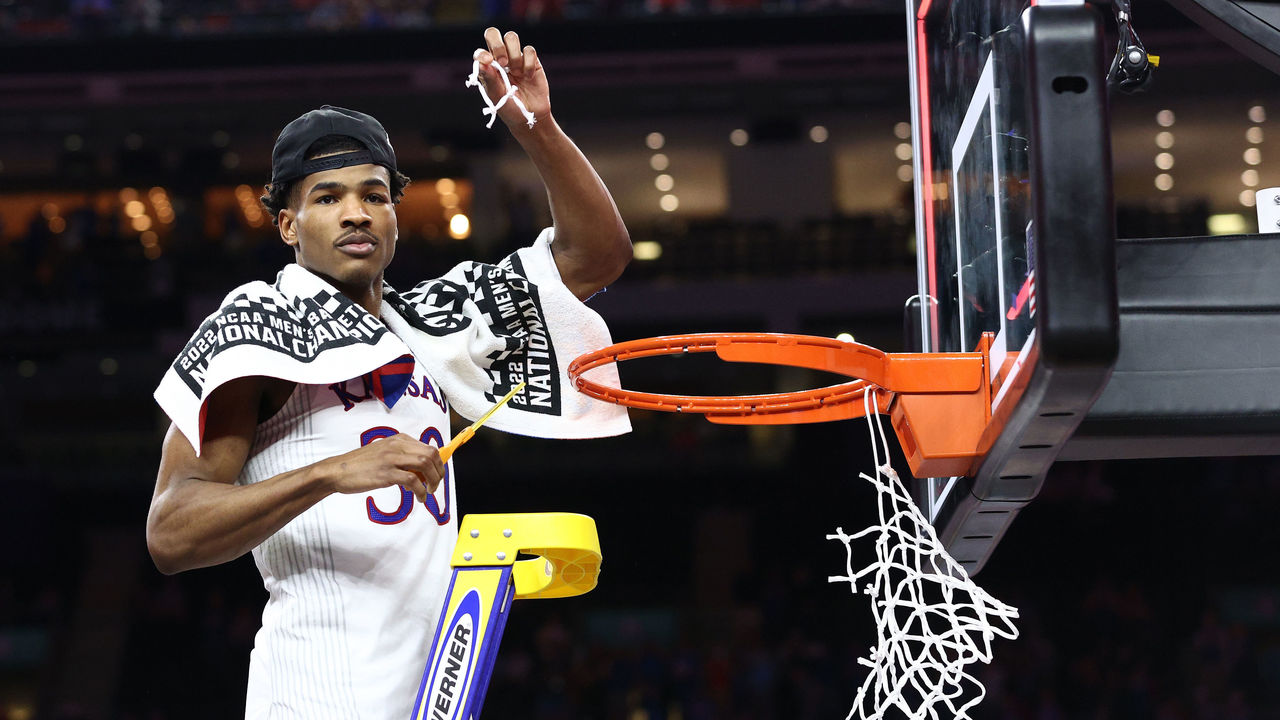 Agbaji is the only senior projected in our first round, but after leading Kansas to a national championship, the 22-year-old's momentum as a prospect keeps gaining speed. His ability to remain efficient through a high-usage rate was impressive, making him one of just five power conference players in the last 15 years to score at least 700 points while still hitting at least 40% of his 3-pointers. Combined with his solid physical profile, that makes him a safe pick in the middle of the first round.
16. Atlanta Hawks – Tari Eason, F, LSU
Eason's transfer to LSU paid major dividends as he quickly established himself among the top players in the ultra-competitive SEC. The 6-foot-8 forward averaged 16.9 points, 6.6 rebounds, and 1.9 steals off the bench en route to an All-SEC first-team selection. His ability to guard multiple positions should help a Hawks squad that's struggled defensively over the past few campaigns.
17. Houston Rockets (via BKN) – Blake Wesley, G, Notre Dame
Wesley burst on the scene from the get-go despite recruiting services ranking him outside the top 100 before his freshman season at Notre Dame. While his statistics aren't mind-blowing due to playing on a slow-paced squad, his raw tools as a long 6-foot-5 wing with impressive finishing ability and defensive instincts could have him playing in an NBA rotation from day one. If his 3-point shot comes around, he could turn into a starter-quality player.
18. Chicago Bulls – Kendall Brown, F, Baylor
After starting the season off strong for Baylor, Brown took a backseat to fellow freshman Sochan down the stretch. His inability to create any offense outside the paint creates a clogged interior when paired with a non-shooting big man. However, should he begin to develop a floor game and a decent spot-up jumper, his defensive versatility could help him carve out a similar role to players like Minnesota Timberwolves wing Jaden McDaniels.
19. Minnesota Timberwolves – TyTy Washington, G, Kentucky
Washington has the flexibility to play either guard position, is a solid perimeter shooter, and can create out of the pick-and-roll. With Sahvir Wheeler starting at the point, the former five-star recruit wasn't able to fully showcase his playmaking skills. However, he registered a Wildcats single-game record 17 assists against Georgia while filling in for an injured Wheeler.
20. San Antonio Spurs (via TOR) – Ousmane Dieng, F, New Zealand Breakers
Another player that will turn 19 right before the draft, Dieng is considered a project coming out of the NBL's Next Stars program. The 6-foot-10 forward brings a tantalizing skill set offensively for his size, but he has yet to put it together over long stretches. The scoring is his main draw, but his defense and athletic ability are just average. For a team like the Spurs, who are looking for offensive dynamism down the road, Dieng could be a sneaky-good selection.
21. Denver Nuggets – EJ Liddell, F, Ohio State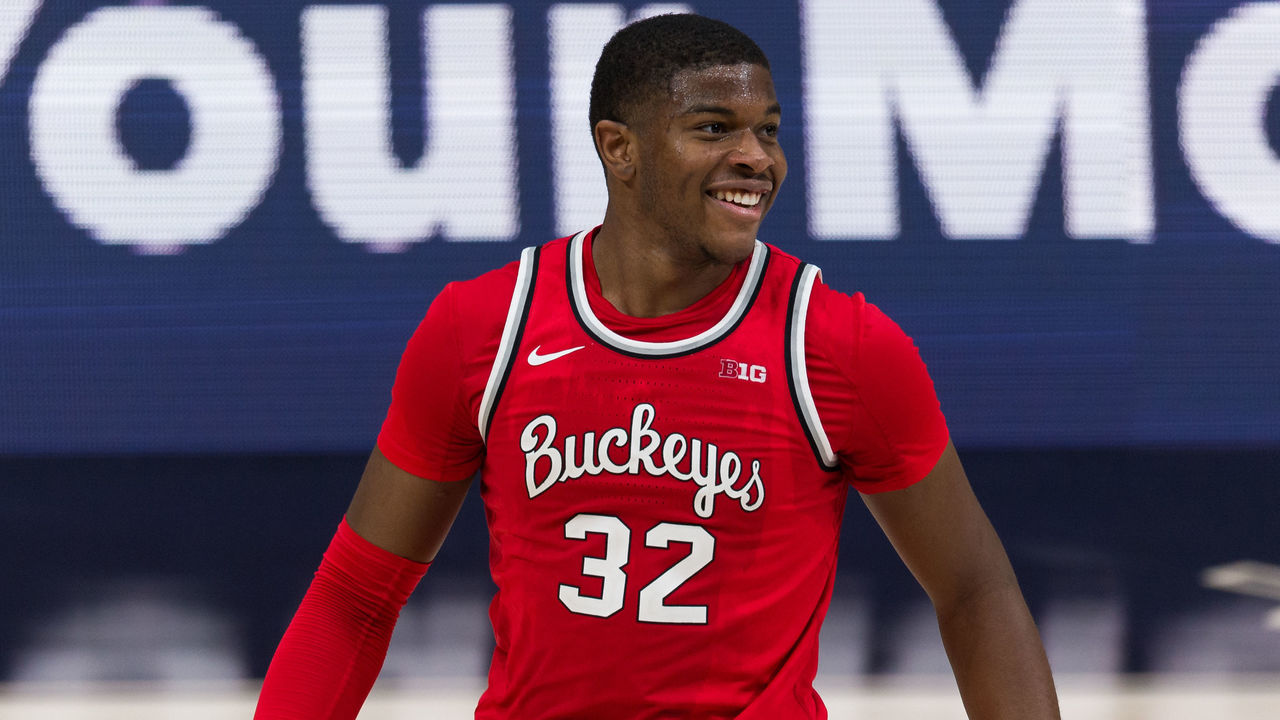 Liddell was among 10 semifinalists for the Naismith Award, which is awarded annually to the most outstanding player in college basketball. He made huge strides during his junior year, improving his 3-point shooting and shot-blocking. While Liddell is only 6-foot-7, he tallied 2.6 blocks per contest last season, and he can hold his own in the post with a 240-pound frame.
22. Memphis Grizzlies (via UTA) – Patrick Baldwin Jr., F, Milwaukee
Having a reputation as a sharpshooter and then shooting 17-for-64 (26.6%) from long range for 335th-ranked Milwaukee shouldn't put you in first-round mock drafts, but Baldwin's smooth stroke is worth the risk. If all goes right, the former top-five high school prospect could have a similar rise to Denver's Michael Porter Jr., another elite prep player and knockdown shooting jumbo wing who had his bumps in college. Baldwin could potentially become a fruitful selection for a strong development system like Memphis.
23. Brooklyn Nets (via PHI) – Trevor Keels, G, Duke
Keels teased his potential in Duke's season-opening win over Kentucky in the Champions Classic. He was scoring from the mid-range, setting up teammates in the pick-and-roll, and aggressively attacking the rim. The 18-year-old also had an outstanding defensive performance, shutting down fellow first-round prospect TyTy Washington. Brooklyn's guards were outmatched in the playoffs against the Boston Celtics, and Keels would provide some much-needed size and defensive toughness in the Nets' backcourt.
24. Milwaukee Bucks – Walker Kessler, C, Auburn
Not only did Kessler put up the nation's best block percentage last season, but his 19.1% rate was the highest mark since former NBAer Larry Sanders in 2008, per KenPom. He also shot 70% from inside the arc. While he only hit 20% of his 3-pointers in college, his willingness to shoot could lead to further improvement. Kessler would be a perfect Brook Lopez replacement for the Bucks down the road as a drop coverage big man that can hit the occasional jumper.
25. San Antonio Spurs (via BOS) – Jake LaRavia, F, Wake Forest
LaRavia would be perfect for a Spurs organization that put a ton of stock into a prospect's feel for the game. His ability to make an impact in all areas on both sides of the ball is impressive, joining Tyrese Halliburton and Lonzo Ball as the only power conference players in the last 17 years to shoot at least 60% from 2-point range and 38% from deep while dishing out at least 3.5 assists and nabbing over a steal-and-a-half.
26. Dallas Mavericks – Nikola Jovic, F, Mega Basket
Jovic is arguably the top international prospect in this year's class. He turned heads at last year's FIBA U19 World Cup, earning all-tournament team honors alongside Holmgren and Ivey. The 6-foot-10 Serbian forward is well-rounded offensively, as he can score at all three levels, handle the rock, and create for his teammates.
27. Miami Heat – Christian Koloko, C, Arizona
Koloko had a breakthrough 2021-22 campaign, averaging 12.6 points, 7.3 boards, and 2.8 blocks to go along with Pac-12 Defensive Player of the Year honors. The 7-foot-1 center is a mobile defender with the length to contest shots in the paint and on the perimeter. With Dewayne Dedmon a free agent this summer, Koloko could immediately slide into his backup role.
28. Golden State Warriors – Dalen Terry, G/F, Arizona
One thing alone gives Terry draft appeal: 6-foot-7, 19-year-old wings that ranked in the top-500 nationally in 2-point percentage, 3-point percentage, and steal percentage don't grow on trees. Although he may not be anything more than a spot-up shooter and solid defender, having that type of role player would pay major dividends on a squad with as many scorers as Golden State.
29. Memphis Grizzlies – Kennedy Chandler, G, Tennessee
The only thing stopping Chandler from being an elite-level prospect is his size. Standing at just 6-foot, his impressive assist, steal, and shooting numbers on a solid Tennessee squad simply hold less value. He'll be a clear mismatch defensively in a league highly dependent on switching. With his hometown Memphis squad giving him a shot to learn from fellow undersized guard Ja Morant, Chandler could have his best path to success.
30. Oklahoma City Thunder (via PHX) – MarJon Beauchamp, G/F, G League Ignite
Beauchamp fell off the NBA radar after foregoing his college eligibility three years ago. However, he put himself firmly into first-round consideration with a strong campaign as a member of the G League Ignite. The former four-star prospect has a quick first step, plays well off the ball as a cutter, and uses his 6-foot-11 wingspan to disrupt opposing players.